As promised in Jerry's recent post featuring a video interview with Patrick McDonnell, the creator of Mutts, we are happy to present this more detailed review for Guardians of Being, McDonnell's new book featuring the wisdom of Eckhart Tolle, shared by our favorite Mutts characters…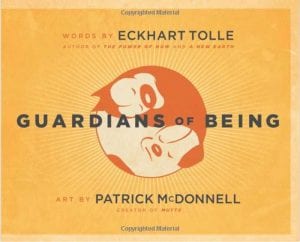 Writing an objective review for Guardians of Being without sounding too excited is difficult considering we have such deep feelings for a certain strip found at the core of this book.
"The key to transformation is to make friends with this moment. What form it takes doesn't matter. Say yes to it. Allow it. Be with it."
~ Eckhart Tolle
The wonderful thing about this book is it sums up the vast teachings of Tolle in a digestible context that is a joy to read, again and again. With the help of Earl and Mooch, McDonnell has an extraordinary knack for conveying enlightening messages with deep meaning in a very limited space. And Guardians of Being is no exception.
In addition to creating insightful original illustrations to accompany the words of Tolle, McDonnell has paired many with favorite strips from the Sunday funnies that embody Eckhart's teachings. Take our favorite above, for instance. Or, one where Earl wags his tail joyfully proclaiming, "Life is Good," as a passage from Tolle explains how dogs' wagging tails are a "direct realization," and not a matter of them "telling themselves why life is good."
Another plus Guardians has to offer is a simple exercise for, "escaping the prisons of our own mind." It can easily help anyone from, "getting lost … in a world of problems,"  and is illustrated by Mooch intently watching a hole in the wall, while the mouse sneaks up behind him.
Whether you choose to be enlightened by its deeper meaning, amazed by its profound simplicity, or merely amused by its beauty, Guardians of Being is a book for everyone, regardless of spiritual belief. It carries with it no religious luggage, other than the inner peace and spirituality we might all attain if we'd only stop, look, and listen to our animal friends.
"We have forgotten what rocks, plants, and animals still know. We have forgotten how to be — to be still, to be ourselves, to be where life is: Here and Now.
~ Eckhart Tolle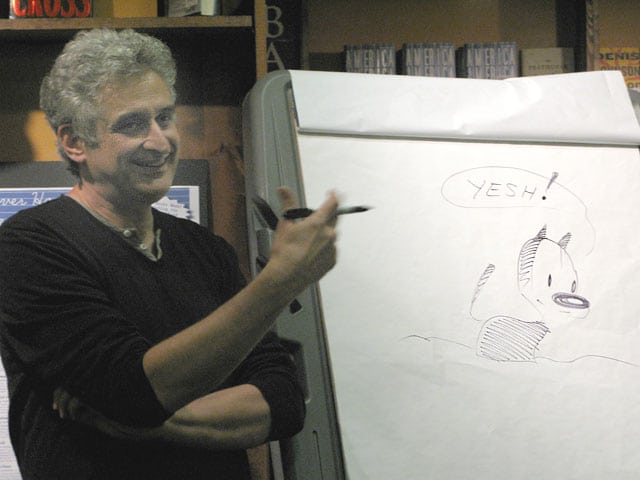 At the signing for Guardians of Being where we recently met Patrick McDonnell, we had the opportunity to discover how the book came to be and what makes it work so well — It is a perfect model for many of his professional beliefs. McDonnell firmly believes that, "less is more" and that, "the most important part of the art is to feel they are alive on the page." With a history of daily deadlines and a busy Mutts schedule, "the art comes naturally — it flows." Another thing Patrick always tries to do with Mutts is to "keep it simple" — focusing on nature, the passing seasons, and other simple things in life. All of this is perfectly clear in Guardians of Being.
So, how is it that a spiritual teacher and a cartoonist collaborated? Tolle speaks often that true happiness is found in simple things, but you need to be present. He says that animals and all of nature can teach us that presence. These same teachings are at the heart of all Mutts comics. McDonnell says seeing a photo of Eckhart with his new dog, Maya gave him the impetus to pursue this project. He thought combining his art with Eckhart's teachings on how animals and nature can bring us into the present moment could be a good entry point "into the Now" for some people.
A most excellent point indeed. The collaboration that became Guardians of Being is a passionate, humorous, enlightening meditation on the power and grace that animals can bring into our daily lives.
Other Amazon Selections from Patrick McDonnell
Don't miss our video interview with Patrick McDonnell, featuring him drawing favorite Mutts characters and reading passages from Guardians of Being. Also be sure to read our review for his latest Mutts Treasury, Stop and Smell the Roses.