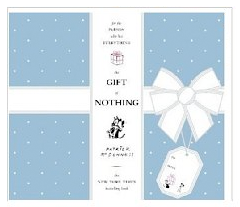 What is the perfect gift for the tripawd who has everything? Try The Gift of Nothing!
Anyone who takes care of a canine cancer survivor or other three legged dog knows that what is often needed most, is a good laugh and dose of heartwarming sentiments.
That is exactly what you will find in the new Gift of Nothing (Special Edition) from Patrick McDonnell, the creator of Mutts – our favorite comic strip.
And now, just in time for this year's holiday season, Little, Brown Books has come up with a new, "no need to wrap" gift edition of the New York Times bestseller – The Gift of Nothing.
Publisher's Weekly gave it a starred review:
"How (Mooch) solves the (gift giving) problem is pure delight, reminding young readers that the greatest gift is friendship, not things. Both Mutts fans and newcomers will appreciate McDonnell's clever wordplay and lovable characters, who prove that nothing can be everything. All ages."
Order The Gift of Nothing now for kids on your list of all ages! As of today, there are five days left to order from Amazon for gift delivery by Christmas:
Don't miss our video interview with Patrick McDonnell featuring him drawing favorite Mutts characters and discussing the "Now! Now! Now!" strip we mentioned in Nature's Why We Love Cats and Dogs. And check out these other great McDonnell fovorites that make great gifts: