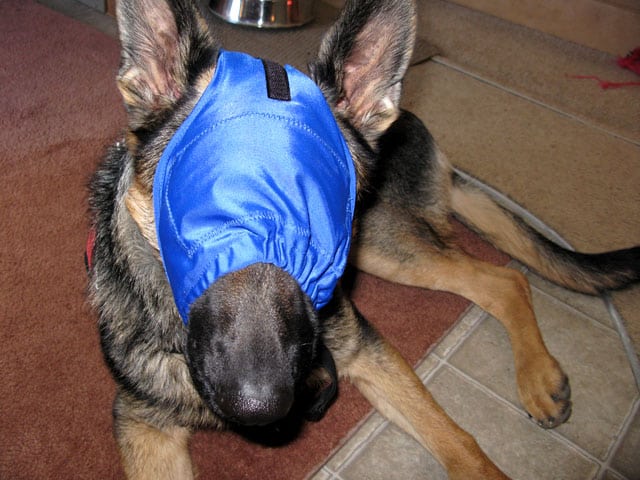 We're always on the lookout for products that can help pawrents and dogs through the amputation process. Never once did we think that a little device called a "Calming Cap," might be a useful tool for Tripawds, until we tried it on Wyatt.
When we first hit the road in our RV, Wyatt didn't take well to the lifestyle. We tried everything we could to stop his panic attacks, but nothing worked. Then we remembered we had a sample Calming Cap in his backpack, and figured it was worth a try.
Once we put it on, he went from barking and running in circles inside the RV, to instantly mellowing out and getting into a Down/Stay position on the floor. Without a fight, he quickly accepted it without a problem.
The Calming Cap is a humane, painless fabric head sock for dogs that helps them stay calm when under duress. The device looks a little weird, and your dog might look somewhat pathetic while wearing it, but as we learned with Wyatt, it really does work.
By keeping a lightly screened, sheer piece of fabric just over their eyes, the Calming Cap "makes the dog's vision indistinct, which reduces the visual stimulus and enables the dog to remain calm," according to the manufacturer.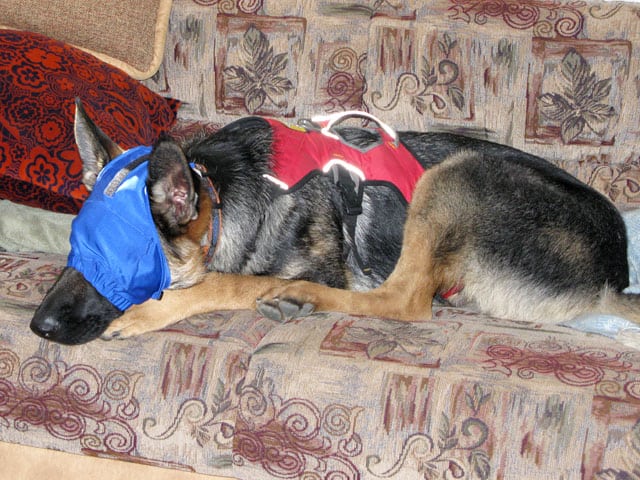 We think the Calming Cap is especially useful for soon-to-be Tripawds who hate going to the vet. For any dog who has to undergo amputation, this little head sock can help reduce anxiety for all of the vet visits needed beforehand. And when your new Tripawd is released from the hospital with painkillers runing through his body, the Calming Cap can help him deal with the long ride home. Later, it can come in handy during chemotherapy sessions for the dog who hates vet visits.
We do want to say though, that the Calming Cap worked great for Wyatt, but there's no guarantee it will work on all dogs. For example, our friend Codie Rae used it a few times when her pawrents tried it on her to prevent excessive barking while in the car. But Codie Rae got used to being able to see through the fabric, so it's lost it's effectiveness.
But for this low price and the instruction book it comes with, we think the device is worth a try.