A healthy pet diet is important to all dogs. For canine cancer survivors and our other three legged friends, however, all natural pet health care is of utmost importance for maximum longevity with the best quality of life.
One of the leading veterinary authors we recommend for anyone researching natural health care for their dogs is Richard H. Pitcairn D.V.M. Dr. Pitcairn has published a number of books on holistic medicine and natural health for dogs and cats. He has also written the foreword for the upcoming revised Homeopathic Care for Cats and Dogs by Dr. Don Hamilton, due out soon.
If you are seeking comprehensive yet easy to understand natural health information for your dog, consider adding these recommendations to your library …
Dr. Pitcairn's New Complete Guide to Natural Health for Dogs and Cats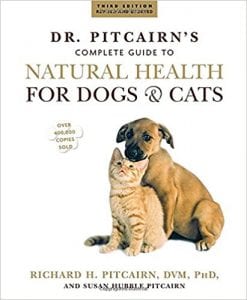 Over 400,000 copies of Dr. Pitcairn's New Complete Guide to Natural Health for Dogs and Cats have been sold since its original publication. The book that is the definitive guide to a natural lifestyle for dogs and cats has now been completely updated and revised.
Writing with the warmth and compassion that have won them a national following, veterinarian Richard H. Pitcairn and his wife Susan Hubble Pitcairn – noted specialists in chemical-free nutrition and natural healing for pets – show dog and cat owners how to provide the very best in companionship and lifelong care. The book now covers environmental matters, including pollutants both inside the home and out, as well as recent hot-button topics, such as Mad Cow disease, Lyme disease, and the West Nile virus.
Includes dozens of recipes for delicious and healthful pet food and treats. With a guide to handling emergencies and an in-depth Quick Reference section, they give specific instructions for preventing, diagnosing, and treating a wide range of animal diseases and disorders with special attention to homeopathic, herbal, and nutritional remedies.
The Whole Pet Diet: Eight Weeks to Great Health for Dogs and Cats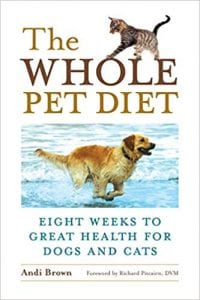 Despite their promise of a complete and balanced meal, most commercial pet foods are chock-full of dangerous by-products, indigestible fillers, and chemical preservatives. It's no wonder that owners spends thousands of dollars every year treating their pets' digestive disorders, tumors, joint and back problems, skin irritations, allergies, and heart, liver, and kidney disease. In The Whole Pet Diet, Andi Brown combines simple home cooking with natural supplements, dedicated playtime, exercise, and good old-fashioned pampering to help regulate pets' weight and tap into their natural healing powers.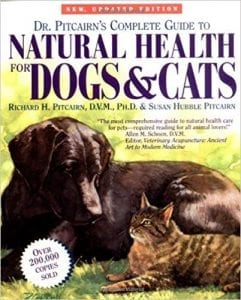 Dr. Pitcairn's Complete Guide to Natural Health for Dogs & Cats
A classic natural pet-care book from two celebrated veterinary specialists in chemical-free nutrition, treatment, and natural healing for pets, Dr. Pitcairn's Complete Guide to Natural Health for Dogs & Cats offers valuable natural and holistic advice on a host of pet topics, including, but not limited to, diet, exercise, environment, coping with a pet's death, and how to care for a sick animal.
In addition to their thorough discussion of the above, Richard Pitcairn, D.V.M., and his wife, Susan Hubble Pitcairn, M.S., offer a comprehensive "quick reference" section on animal illnesses, organized alphabetically and including a brief description of each illness, preventative measures that may be taken, and holistic and natural treatment options for both dogs and cats – treatments that should always be discussed with one's vet before being used. Occasional line drawings, informative graphs, and the Pitcairn's intelligent prose make this guide a must-have for pet owners interested in a natural lifestyle for their pets.
Homeopathic Care for Cats and Dogs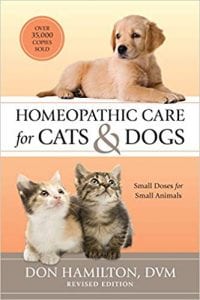 First published in 1999, Homeopathic Care for Cats and Dogs quickly became a bestseller and an important resource for anyone looking for a more organic approach to caring for their cats and dogs. With a foreword by Dr Richard Pitcairn, author Don Hamilton uses accessible language to give readers an authoritative overview of animal homeopathy. This comprehensive natural pet health care guide covers history, treatment principles, homeopathic disease theory, and simple methods for using homeopathic remedies.