Jerry's original Tripawds Store was our first attempt to offer useful recommendations for books and products that readers may find helpful when faced with cancer and/or amputation for their dogs.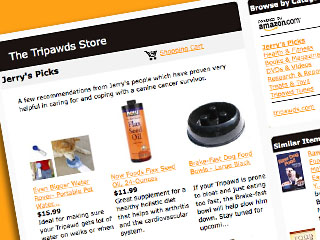 We hand-selected items from the vast resources available at amazon.com, and presented them on Jerry's blog for members to easily peruse and purchase. Our intent with the aStore widget, was to save members the time and effort of searching Amazon for relative titles and products. And we will no longer be updating it.
Why? Because we have so much more to offer now, with the Tripawds Featured Blogs! Now that we have this Tripawds Amazon Selections blog – and others focused specifically on Gear, Gifts, Nutrition and Downloads – we can provide much more in depth product reviews and recommendations than the aStore widget alone allows.
With that in mind, we have updated the Tripawds Store page with links to all our featured blogs including some popular product highlights. And while we will no longer be updating the original Amazon widget, the store will remain fully functional for the products it contains.

The new and improved Tripawds Store page can be viewed anytime by clicking the Store link in the header navigation of every News Blog page.
Need another reason to check it out? On the Store page you will now find an extended version of our Tripawds Recent posts widget. Like on our Chat and Forum pages, this widget shows the title and excerpt of the most recent posts from all Tripawds Blogs. But instead of only the last three, you can now view the latest twelve Tripawds Blog updates at a glance!