Tripawds Clean Up Safely with Dr. Bronner's
Dry flaky skin on a dog can indicate any number of dermatological health issues, but oftentimes it can be a sign that the shampoo you're using can be too harsh. Did you know that common shampoo ingredients contain caustic ingredients that have been proven to be carcinogenic? To keep your Tripawd as healthy as pawsible, avoid shampoos with these ingredients:
sodium laurel sulfate
sodium laureth sulfate
ammonium laurel sulfate
These ingredients make foam, but they're harmful and difficult to rinse out. Other pet shampoo ingredients to avoid include coconut-based products with lauric acid, which can remove the skin's protective lipid coatings. And forget what you thought about oatmeal baths; oatmeal often clogs the skin's pores and can cause outbreaks.
One more ingredient to avoid is lanolin, which can coat hair follicles and attract dirt, necessitating the need for even more baths.
So what's a pawrent to do? Andi Brown, author of The Whole Pet Diet, recommends using "pure, simple, castille shampoos with saponified oils of coconut, jojoba, olive and rosemary." No other shampoos are as gentle and effective. Made with pure ingredients like olive oil, castille soaps are gentle for your Tripawd, you and the planet. They rinse out easily and cut grooming time in half. Dr. Bronner's soaps with peppermint, or eucalyptus can help repel insects.

Remember that as long as your dog is eating a healthy diet, he shouldn't need a bath more than once every two months or so. More frequent bathing can strip out important natural oils in the coat and skin and leave him much more susceptible to fleas and ticks.
We always wondered why Spirit Jerry's skin was often dry after bathing.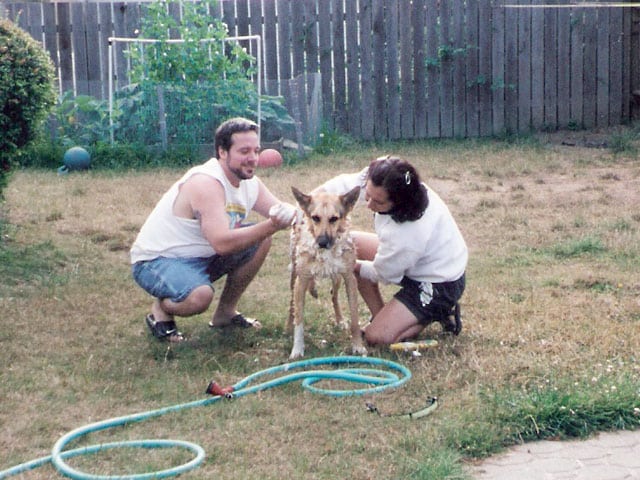 Last year, when we read The Whole Pet Diet and tried Dr. Bronner's Peppermint Soap on Wyatt, we were impressed with how clean it left his fur and how quick the whole process took. We'll never go back to old-school pet shampoos again!