"Once in a generation a dog comes along that changes the way we think about life. Lou was that dog. Of the thousands of dogs I have known, Lou had the most- soul." –Steve Duno

Tripawds Spokesdawg Wyatt Ray speaks:
You humans sure like to talk about your "Forever Dogs." You know, those "Best Dog Ever!" Spirit Dogs who broke your heart into a million pieces when they earned their wings? Those "Heart Dogs," who nutbags like me don't stand a chance of measuring up to?
For all of you who can relate, you oughta read a new book called, Last Dog on the Hill, that chronicles the life of Lou, an amazing dog who forever changed the destiny of a teacher that rescued him from the side of a California highway.
Steve Duno was a thirtysomething freespirited guy just doing his own thing, when Lou came along. Although he had to be convinced to take this flea-bitten feral puppy home, in no time at all Steve would realize that Lou was smarter than the average dog, full of talents that could help canines and humans alike.
Lou might have had a ruff start in life, but with Steve's help and some dedicated teamwork, this dynamic duo grew into masters of training hundreds of difficult and dangerous dogs.
Lou's keen survival instincts also came in handy many times throughout his long life, when he foiled a robbery, caught a rapist, and once he fought off a coyote! When Lou was diagnosed with cancer, he beat that too! This gentle, strong and swift pup shared his gentle pawsonality with old folks as a therapy dog, and would even win the hearts of gangstas and neighborhood hoboes.
For sixteen years, he and Steve were inseparable, teaching canine brethren about how to live and thrive as Good Dogs, while comforting humans in times of need. Lou was a real life Rin Tin Tin, a dog who made a pawsitive impact more people and animals than he would ever know. Last Dog on the Hill chronicles his lifelong adventures and the beautiful relationship that he and Steve shared.
Several months ago, before we had ever heard of this book, I met the author, at a campground in the Arizona desert. What a cool guy! He really seemed to know what I was thinking (uhhh, what was it again?).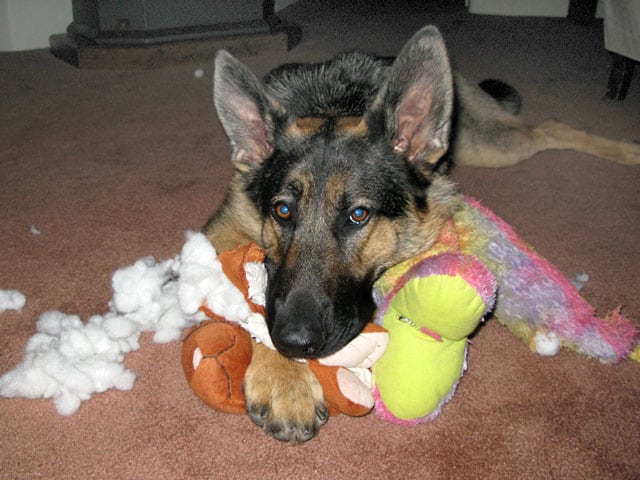 Although I had to sit through Steve and my pawrents talking allllll about their Best Dogs Ever, Jerry and Lou, after a while Steve turned to look at me, and he said that I was pretty cool. He told my pawrents that I was doing, good considering the ruff start I got in life.
Hmmm….seems like Lou and I had something in common! And if Lou could go on to share his magic with the world, just think what I can do!
Any real dog lover will love Last Dog on the Hill. Lou's story doesn't dissapoint, you won't be able to put it down.
Get this book today, and prepare to meet one of the Greatest Dogs, Ever!