Common post-amputation behavior can often include whining and panting as a side-effect from pain drugs. Loud noises and thunder can exacerbate behavior.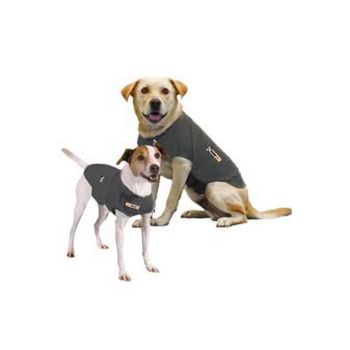 While we naturally want to coddle and hug them to calm them down, doing so can reinforce that behavior. Anxiety research experts say that babying sends them the message that something scary is definitely happening.
If we can't reassure them with hugs, what's a pawrent to do?
We've talked about natural stress relief treatment options before, like Bach's Flower Essence Rescue Remedy.
You can also try a neat new product we discovered, the Thundershirt.

How Thundershirts Relieve Anxiety
Thundershirts are based on the Tellingtouch Therapy process, which is gentle pressure massage that calms nervous animals ranging from horses to dogs, and even children.
Thundershirts provide the same kind of gentle, constant pressure that T-Touch does, and has a dramatic calming effect on most dogs if they are anxious, fearful or over-excited.
Thundershirts are like giving your dog a big hug, with the right kind of therapeutic pressure that can keep them calm.
There is no training needed; after gently introducing your dog to the Thundershirt, just place the wrap on your dog and observe the results.

Up to 85 pawcent of dogs experience varying levels of relief while wearing a Thundershirt.
The Thundershirts company is so confident in their product that they offer a money-back guarantee if you find that it doesn't provide some relief. See their Testimonials page for real life success stories.
Thundershirts can be used in situations such as:
Post-surgery anxiety
Travel nervousness
Crate training
Leash pulling
General excitability
This wrap-around anti-anxiety reliever is easy to put on and remove, and is a great all-natural way to approach this serious behavioral issue. At just $36, it's a bargain compared to visiting the vet for pharmaceutical alternatives.
Check the Thundershirts FAQ page for complete measuring instructions and answers to common questions.
Stay tuned for a complete Thundershirt review from front-leg Tripawd Max, and rear-leg high-anxiety Tripawd Spokesdog Wyatt Ray. Meanwhile, if you have used one, be sure to let us know how it worked for your Tripawd in the comments field below.
Meanwhile, remember that all Thundershirt purchases made here in the Tripawds Amazon Blog help to defray the costs associated with maintaining this community. Thanks for your support.