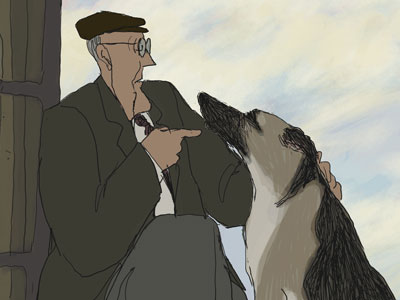 The recent Winter issue of Modern Dog magazine – which mentioned Tripawds.com as a "Resource for Guardians of Three Legged Dogs" – featured a review of the animated film My Dog Tulip.
Released in 2009, My Dog Tulip on DVD may be hard to find. So if you're looking for a heartwarming story and are a fan of hand-drawn animation, we recommend running out and seeing it if it shows near you. In the mean time, enjoy this trailer:
My Dog Tulip is a love story for true dog lovers. It is the touching story of a man who has given up on finding love, only to discover by rescuing a rambunctious German shepherd that sometimes, love really is a bitch. This beautifully illustrated tail tells how the two unlikely soulmates become fast friends.
Based on J.R. Ackerley's 1956 memoir, My Dog Tulip, the film faithfully follows the misadventures of this odd couple, which introduce them to a number of interesting characters. One such encounter is with Colonel Finch, owner of Gunner, a rather wanting Alsatian suitor. The fact that Ackerly was not exactly a "dog person" makes the evolution of his unbreakable bond with Tulip a captivating read.
Anyone who knows the GSD breed will totally relate to this book:
"Tulip never let me down. She is nothing if not consistent. She knows where to draw the line, and it is always in the same place, a circle around us both. Indeed, she is a good girl, but – and this is the point – she would not care for it to be generally known."
The paperback re-issue of My Dog Tulip is a new movie tie-in to the Ackerly classic. It is a faithful retelling of how in 1947, J.R. Ackerley rescued an 18-month-old German shepherd. From the beginning of their relationship it was clear that her mission was to break down his emotional barriers. Whether or not she succeeded will be up to you to determine.