It's difficult enough losing an animal companion, but when you have to explain death to a child, it can break your heart into a million more pieces. Tripawd member Mari's thinks she and her pup Mika might crossing this path soon:
Let's hope I'm just being paranoid because I can't bear the thought of having to explain to my three little girls why we experiencing another loss. 🙁
There are ways to help ease the pain and prepare us for this process. Here are some great books recommended for children who lose a family dog. If you have others, please comment below.

Dog Heaven, Cynthia Ryfant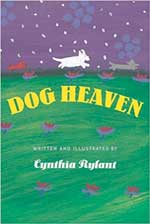 Ages 4-8
In this joyfully imagined place, God is a smiling, white-haired gentleman who watches the goings-on as dogs run and bark, play with kids, eat dog biscuits in cat shapes, and sleep on fluffy clouds. It's also a place where dogs patiently wait for old friends: "They will be there at the door. Angel dogs." Rylant's kindergarten concept of the hereafter is cheerful but not humorous or glib. A book for parent-child sharing and discussion. From Booklist (Stephanie Zvirin).
I'll Always Love You by Hans Wilhelm

Ages 4-8
This is a wonderful book about healing and bonding. It is the story of a young boy and his dog Elfie. When Elfie gets old and dies the boy sadly buries Elfie after openly sharing his grief. He vows that he will tell every pet he ever has that he will always love him. The book helps young children understand death and provides a valuable lesson that it is always good to tell a loved one, human or pet, that you will always love them.
For Every Dog an Angel, by Christine Davis

Any Age
A light, magical little book that honors the timeless connection between people and their canine companions. Written from the heart after the unexpected loss of her "forever dog" Martha, this charming book will bring comfort to anyone who has ever had to say goodbye to their best four-legged friend. For Every Dog An Angel is also a heart-felt way to welcome a new puppy or to celebrate a much-loved doggie friend.
Healing Your Grieving Heart for Kids: 100 Practical Ideas, by Alan Wolfelt, PhD

Adults

Offered are suggestions for healing activities that can help survivors learn to express their grief and mourn naturally and age-appropriate activities that teach younger people that their thoughts are not only normal but necessary. Acknowledging that death is a painful, ongoing part of life, they explain how people need to slow down, turn inward, embrace their feelings of loss, and seek and accept support when a loved one dies.