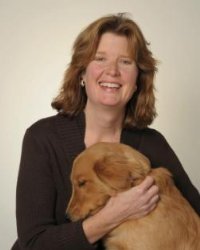 With our upcoming Tripawd Talk Radio interview with Sarah Wilson this weekend, we thought we'd share a short list of critically acclaimed dog training and behavior books she has written or co-authored.
Long time Tripawds fans will recall Sarah was the expert animal behaviorist featured in Nature: Why We Love Cats and Dogs which shared the story of our bond with Jerry. Sarah also maintains the popular My Smart Puppy community.
To see all her books and read reviews, please visit Sarah's author page on Amazon.
Best Dog Training and Puppy Behavior Books by Sarah Wilson
My Smart Puppy: Fun, Effective, and Easy Puppy Training (Book & 60min DVD)
America's most beloved dog trainers are back with brand-new training techniques in the definitive guide to raising a happy, obedient puppy…
A dog-training guide that gives you immediate results even with an adult dog, this manual trains you, as it gives owners everything they need and everything dogs need to become…
Childproofing Your Dog: A Complete Guide to Preparing Your Dog for the Children in Your Life
Master dog trainers Brian Kilcommons and Sarah Wilson show readers how to encourage children and dogs to be perfect companions, in a comprehensive manual that demonstrates how to train an older dog to acept an infant, choose the right breed, and more.
Dogology: What Your Relationship with Your Dog Reveals about You
Dog owners, this book reveals, fall into 9 distinct personality types: Angel, Dynamo, Soul Mate, Idealist, Observer, Expert, Buddy, Master, and Free Spirit…
America's premier dog trainers for the past 25 years–and authors of "Good Owners, Great Dogs"–present a heartwarming, humorous, and touching collection of true tales of remarkable canines. Illustrations throughout.
Metrodog: The Essential Guide to Raising Your Dog in the City
Now in paperback is America's most loved dog trainers' essential guide to raising a happy, well-behaved, and well-adjusted dog in the city. The authors tell urban dog owners how to do everything from housebreaking puppies to preventing them from barking in thin-walled studio apartments.