Looks like the standard cone of shame is on its way out! Finally, there's a better way to prevent dogs from chewing on stitches after surgery. Here are a few inflatable collars available on Amazon.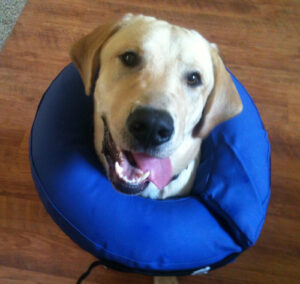 Even if your Tripawd is recovered from amputation surgery, these inflatable post-surgery cones are handy to have around the house.
Should your pup suffer from fleas or hot spots, inflatable dog collars are a fast way to prevent them from making the skin irritation worse.
We won't guarantee that these soft collars will work on all dogs, but most will find they would rather tolerate the soft cone than turning into a poster pup on the Tripawds Cone of Shame Hall of Fame!
The KONG Cloud E-Collar is a comfortable, inflatable e-collar that doesn't interfere with your dog's peripheral vision or their ability to eat and drink. Greats for dogs and cats recovering from surgery or wounds, these collars are washable, scratch and bite-resistance and will not mark up floors or furniture.
Available in five sizes. For larger breeds with longer limbs, or breeds in between sizes, always size up. Always monitor your pet to ensure collar is working properly. Some pets may be able to maneuver around any collar.
BooBooLoon Inflatable Pet Recovery Collar forms a soft, flexible cushion around your pet's neck to comfortably restrict dogs and cats from harming most post surgical wounds, injuries and irritating skin disorders. This easy to use and comfy recovery collar provides protection, comfort and allows your pet to eat, drink, sleep and move normally. Just at a time when your pet isn't feeling too great, the BooBooLoon inflatable protective pet recovery collar is a humane alternative to hard, rigid Elizabethan cones.
Your pet will enjoy complete freedom of sight and movement while being comfortably restricted from harming most wounds and skin disorders. Proper inflation is an important element of this product. Made from a soft pillow-like, yet durable material. Easily inflates. Fully adjustable using hook and loop Velcro type fasteners to ensure a snug and comfortable fit for your pet. Flexible and soft inflatable collar will not damage your home or furniture.
Thanks for shopping with Tripawds!
All purchases made through this Tripawds Amazon blog
help to maintain the Tripawds community.