In honor of our Tripawds members who've recently earned their wings, we share our thoughts on the book "The Last Walk: Reflections on Our Pets at the End of Their Lives," by Jessica Pierce. Ms. Pierce sent us a review copy recently, and we want to make sure you know about this important book.

The Last Walk should be required reading for anyone who loves and cares for animals. That's because at some point, every one of our animals will reach a point where we as their guardian must face enormous, heart-wrenching questions about their end-of-life care. As their voice and their advocate, we owe them the gift of a painless death, not a moment too soon or too late. This book will help you get there with the confidence you need to face your grief without regrets.
In the Last Walk, Pierce shares her year long, dedicated journey through the last months of her elderly dog, Odysseus (Ody), from his increasing spills and stumbles to surprising hints of dementia. As Pierce chronicles the effects of age on Ody's life she knows the euthanasia decision is approaching, but questions not just her instincts about the right time to do it but about the ethics behind the decision itself.
Pierce is no stranger to in-depth analysis of the nature of animals; this Northern Colorado-based philosopher and bioethicist has authored critically-acclaimed studies of animal behavior, including "Wild Justice: The Moral Lives of Animals" in which she and renowned ethologist Mark Beckoff explored how animals comprehend human-like behaviors such empathy, forgiveness, trust and fairness.
As laypeople, we hope that if anyone will have clear answers about knowing when and how to say goodbye to our best friends, Pierce will. But as The Last Walk shows, even a respected scientist struggles with the same bewildering scenarios as we do, for her oldest and most cherished dog.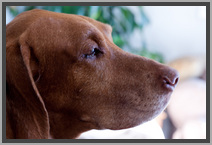 Throughout the book Pierce fluctuates between heartfelt entries in "The Ody Journal" that she kept during his last year, and matter-of-fact chapters that gently explore recent evidence about elder animals' behavior and health.
As we learn about the newest findings in areas like pain management for animals, Pierce wrestles with her own logical analysis of Ody's decline as she attempts to give him the ever-elusive "good death" at the ideal time that she knows he deserves.
"Chris says that if Ody keeps falling like this, over and over, that by Wednesday we will need to make a decision to put him down. He is suffering, Chris says. I can't reply; I feel myself pushing the thought away. Just two days ago I gave Ody a score of 42 on the Pawspice scale—7 points above euthanasia. He couldn't decline that quickly. I think, instead, that I will take Ody to the canine rehab place and they will have a good solution to his problem. Maybe some magic bullet. I know, too, that I won't call the rehab clinic in the morning. It seems cruel to Ody to prolong this, to pretend that his problems are fixable. I follow him around all afternoon, picking him up, until finally he settles onto his waterbed and falls asleep.

At dinner, he gobbles up a bowl of fresh hamburger and rice. This makes me feel better. Food is a barometer of desire to live, isn't it? Tomorrow will be a better day."
Much as we walk the same journey with our pets–from the day we notice flecks of gray on their muzzle to the moment we are confronted with making the euthanasia decision, Pierce and Ody take us gently but rationally through all of the emotional and difficult issues we will encounter along the way, such as:
How animals experience death and dying
What determines "quality of life" for an aging animal?
Physical and mental changes to expect when your animal is aging
Knowing when your animal is in pain
How to assess your animal's happiness level
The emotional and physical challenges of caregiving
and finally, the ethics, practicalities and realities of euthanasia and death
The book takes an emotional toll on the reader, but for anyone caring for an animal, its practical nature makes it required reading. Like death itself, Ody's decline has a mixed blessing—as you grieve for the profound loss you know Pierce is about to experience, in return you receive a bittersweet gift from this valliant old Vizsla – the gift of being able to take a closer, rational look at what impending death means to you and your beloved companion.
Don't wait until your pet is close to the end of his or her life to pick up a copy of The Last Walk. Read this book now, while both your heart and your pet are strong enough to tackle life and death's biggest challenges.
Listen to Jessica Pierce on the Diane Rhem Show:
Jessica Pierce: "The Last Walk: Reflections On Our Pets At The End Of Their Lives"