Learning to properly prepare meals that meet the nutrition requirements of a dog can be ruff, but the Dog Food Dude's "Feed Your Best Friend Better: Easy, Nutritious Meals and Treats for Dogs" is here to help take the guesswork out of recipes.
If you've ever wondered where to begin learning about home feeding proper meals for your dog, this book is a great place to start.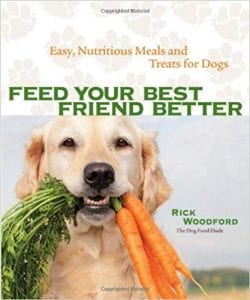 "Feed Your Best Friend Better" is a comprehensive dog food cookbook that illustrates how easy it is to give your dog the gift of better health, with simple ingredients that you can find in your nearest grocery store.
Written by Rick Woodford, dog dad to a cancer hero named Jackson and owner of a home-cooking dog food delivery service, this book features 85 recipes for home-cooked canine cuisine as well as treats and supplements that enhance your dog's nutrition.
"Absolutely loved this book! Read it cover to cover in just one day. The author has done an incredible job researching proper nutrition for dogs and breaks down the serving sizes according to the size of your dog.

The recipes are very easy to follow and many of them can be made with items that are probably already in your refrigerator and cupboards. There is a ton of great information as well as the touching story behind the author's motivation. We have made 5 recipes so far for our 2 labs and everything has been a hit. We also shared some with my mother and sister's picky eaters and we got the "is that all?" look from them after they licked their bowls clean. We switched our guys to a holistic diet about 2 years ago, and this is the perfect compliment to their new regime. They are so excited for mealtimes now and we feel great knowing that they are getting something that is not only delicious but also nutritious." — Amazon Reviewer
"Feed Your Best Friend Better" is full of practical ideas anyone can use: fast fixes, making and storing meals to share with your mutt, and even some tips for curbing problem mealtime behaviors. It also includes suggestions for buying better commercial foods and supplementing them with homemade goodies when you can, as well as warm-nose recipes for ailing dogs. Unlike many cookbooks for dogs, it features easy portion sizing and nutritional information for all sizes of dogs. It has everything you need to feed your best friend better through a long and happy lifetime.
This seems like an essential cookbook that every dog pawrent needs. We say "seems" because we recently received a review copy from Mr. Woodford and just began the process of reading it cover-to-cover. When we're done reading it we'll let you know what we think but for now, check it out and see if you like it.
Here's one recipe from "Feed Your Best Friend Better" that sure looks tasty!
Turkey Meat Loaf
Ingredients
Nonstick cooking spray
2 large eggs
1 (15 oz) can crushed tomatoes
1/2 cup freshly grated Parmesan cheese
1/4 cup finely chopped fresh parsley
2 tsp dried basil
2 tsp dried oregano
1/4 tsp garlic powder
1 tbsp soy sauce
2.5 cups quick-cooking rolled oats
2.25 pounds turkey
Steps
Preheat oven to 350 degrees Fahrenheit
Spray either two loaf pans or one 9×13″ baking dish with nonstick cooking spray
Whisk the eggs, tomatoes, Parmesan, parsley, basil, oregano, garlic powder and soy sauce in a large bowl until thoroughly mixed.
Add the oats and turkey to the egg mixture and mix thoroughly, then spoon the mixture into the prepared baking dishes.
Bake for 45 to 55 minutes, until the center of the loaf registers 170 degrees Fahrenheit on a meat thermometer.
Remove from the oven and allow the meat loaf to cool prior to mixing in any supplements.
Yield: 11 cups; 320 calories per cup
Divide into two meals, or serve one-half the daily portion per day with one-half the normal amount of dry food.
10 pound dog = 3/4 to 1.25 cups of Turkey Meatloaf
20-pound dog = 1.5 to 2 cups
40-pound dog = 2 1/3 to 3.25 cups
60-pound dog = 3 1/3 to 4.25 cups
80-pound dog = 4.25 to 5.25 cups
Remember, all Amazon purchases of "Feed Your Best Friend Better" help support the Tripawds community!
Thanks for shopping with us!