Are you thinking about home cooking for your dog? If so, check out this review of "Feed Your Best Friend Better: Easy, Nutritious Meals and Treats for Dogs," a recipe book for home cooked dog foods and treats, written by Rick Woodford (aka the Dog Food Dude).
Libby's Mom Amy recently put the book's recipes to the test. Check out what she learned.

"I started researching canine nutrition when one of our labs, Libby, was diagnosed with osteosarcoma. I learned of Feed Your Best Friend Better through Tripawds.com and the sample recipe looked so yummy and easily made with ingredients I mostly kept on hand.
It makes me feel like I'm doing something on the home front to battle this disease besides just traditional medications.
The book is filled with useful information on "people food" to share with your dog as well as a list of what not to share and why.
The author breaks down the nutrients (protein, carbohydrates, etc) into easy to read and understand paragraphs. The recipes are well organized and the layout makes them a snap to follow. You can make meals, treats and even dessert.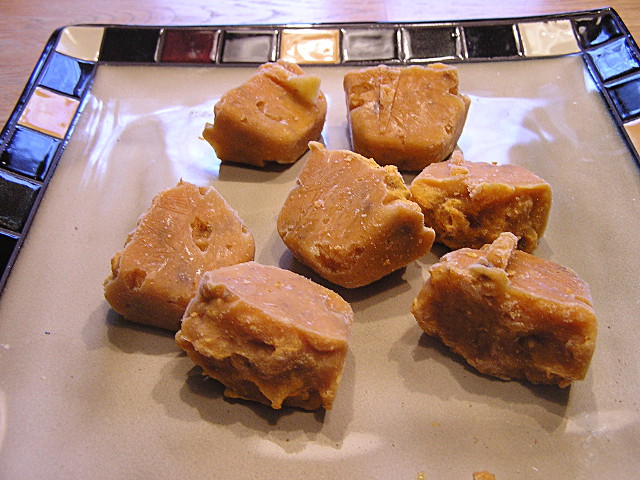 Especially helpful are the daily portion sizes per weight of the dog, given at the bottom of each recipe. Once in awhile he'll tell you additional ingredients to add to make it palatable for the humans in the house as well!
My dogs love the Pumpkin Ice Cream. There are illustrated weight charts to determine if your dog is overweight underweight or ideal. The book is also sprinkled with beautiful pictures of dogs.
I was most interested in the section designed for ailing dogs. There were recipes for conditions such as arthritis, allergies, cancer and many more.
I made the Cancer Fighting Split Pea Soup (see recipe below) and the only complaint I have is the need to clean up all the drool she made while waiting for her bowl!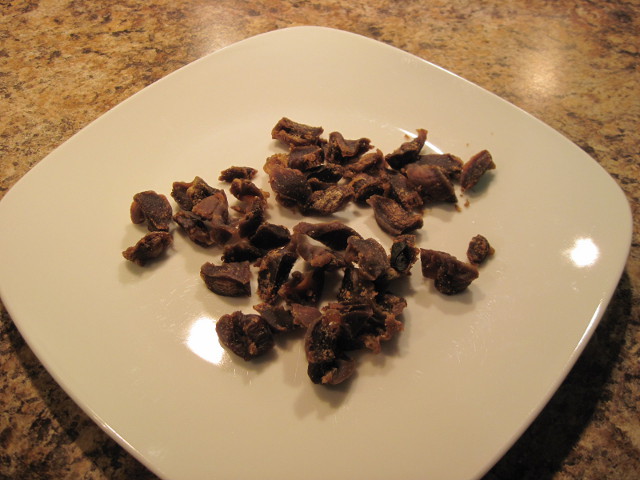 I would like to see more recipes in the cancer fighting section however, I won't always be battling this disease so this is a guide I can use for years to come."
Three paws up to Amy for submitting this pawesome guest blog post! If you would like to submit a guest blog post for any of the Tripawds blogs, please contact us today!
Cancer-Fighting Split Pea Soup Recipe
Recipe by Rick Woodford, Feed Your Best Friend Better: Easy, Nutritious Meals and Treats for Dogs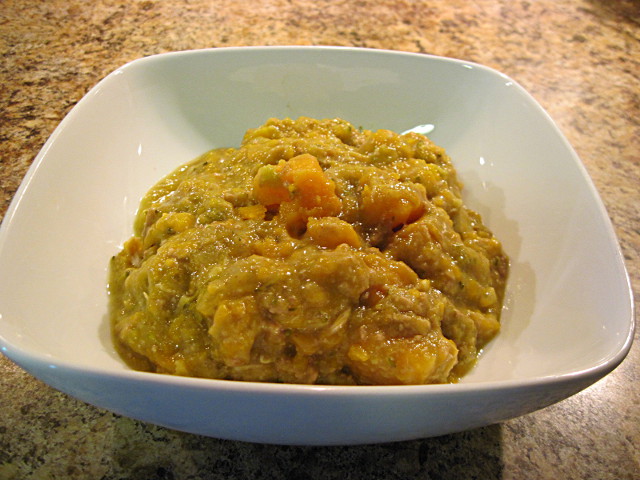 "The vegetables, garlic and rosemary provide antioxidants, vitamins and minerals that will bolster your dog's immune system, and they smell pretty good cooking."
Ingredients
1 pound chicken gizzards
2 pounds boneless, skinless chicken thighs, cut into 1-inch cubes
4 cups butternut squash, peeled and cut into 1/2-inch cubes or grated
1 1/4 cups split green peas
1 cup chopped brocoli
1/4 cup chopped chicken livers
5 cups water
2 tablespoons finely chopped fresh rosemary
1/4 teaspoon garlic powder
Chop the whole gizzards into 1-inch chunks, or process for 15 seconds in a food processor to grind the meat. Add the gizzards to the pot of a 6-quart slow cooker.
Add all of the remaining ingredients to the slow cooker and give it a couple of quick stirs.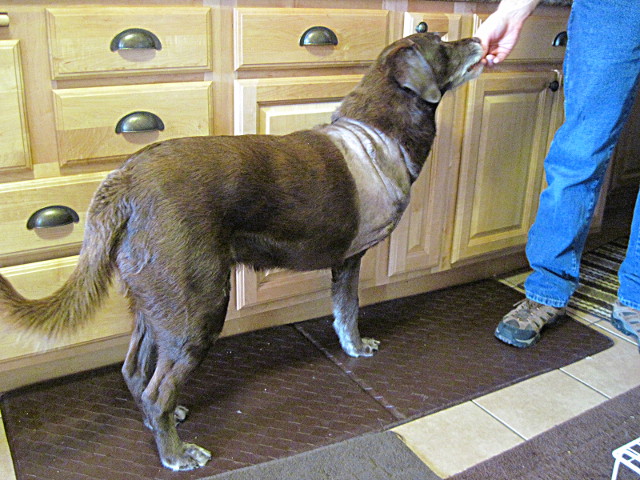 Cook on low heat for 6 to 8 hours, until the split peas have softened.
Turn off the cooker and allow the soup to cool prior to mixing in any supplements.
Yield: 13 cups, about 400 calories per cup.
Daily Portion Recommendations
Divide into two meals, or serve one-half the daily portion per day with one-half the  normal amount of dry food.
10-pound dog: 2/3 to 1 cup
20-pound dog: 1.25 to 1.5 cups
40-pound dog: 2 to 2.5 cups
60-pound dog: 2 2/3 to 3 1/3 cups
80-pound dog: 3 1/3 to 4.25 cups