Keeping a Tripawd's weight down is vital for a long, healthy, pain-free life on three legs. As you begin your Tripawd journey, remember that every morsel counts toward your animal's daily caloric intake, so use extreme discretion when it comes to food. Low-calorie pet foods alone don't do the trick!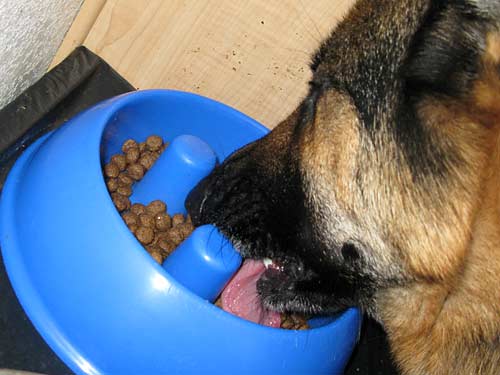 If you suspect your dog or cat is eating too much, go with your gut feeling and learn how to help keep the pounds off.
To kick off your pet's weight loss program, here are some great books to help you get your Tripawd to an ideal weight.
Remember, talk to your vet about how you can help your dog or cat stay slim and always tailor any suggested exercises in these books to the physical needs of a Tripawd.

The Amazing Treat Diet for Dogs: How I Saved My Dog From Obesity
This is a how-to diet book for dogs based on the funny, touching and true story of how Katie saved her dog, Hustler, from obesity. It is a charming and heartening tale, cleverly intertwined with diet principles and guidelines, including meal servings, treat servings, and information on how weight affects the health of your dog and what you can do about it.
Your dog can lose weight without medications, complicated homemade diets and expensive foods, even if normal canine exercise is not an option. Extensive photography and detailed appendixes enhance and simplify comprehensive nutritional information. Katie's story is written to inspire fellow dog owners, especially those with dogs suffering from physical challenges and disabilities, such as dysplasia and arthritis.
Feline Nutrition for the Optimum Health & Longevity of your Cat
Cats, through desert adaptation, require water as a component of their food. They also lack the metabolic pathways to efficiently process plant material, thus defining them as obligate carnivores; their food should consist only of meat, fat, bones, and organs. These are two very simple yet fundamental facts of feline nutrition. A cat is solely designed to hunt, kill, eat, and process meat. Through millions of years of evolution, cats have developed unique characteristics of anatomy, physiology, metabolism, and behavior indicative of obligate carnivores.
Many feline diseases such as diabetes, obesity, urinary tract disorders, chronic renal disease, and irritable bowel syndrome can be directly attributed to low moisture, low-meat-protein, and high-carbohydrate levels that plague many of today's commercially produced cat foods. Many cats survive on these dry, supplemented, plant-based diets but they do not thrive. This book will discuss basic feline anatomy and physiology (explaining how a cat's body metabolizes nutrients) coupled with interpreting pet food labels which will help you make healthy selections whether choosing to purchase commercial foods or making a home-prepared raw diet to feed your cat.
Chow Hounds: Why Our Dogs Are Getting Fatter -A Vet's Plan to Save Their Lives
Almost half of the dogs in North America are overweight or obese, putting them at risk for major medical problems and untimely death. Is your dog one of them?
Esteemed national television veterinarian and founder of the Association for Pet Obesity Prevention, Ernie Ward has helped hundreds of dogs reclaim their optimum health with his comprehensive plan, and now he can help your dog, too. In this unprecedented look at how we care for our pets, Dr. Ernie opens our eyes to the shocking truth about why we have unknowingly created a Perfect Storm of Portly Pets. For example, did you know that many pet foods are so spiked with sugar and fat that they actually cause your dog to eat even when she isn't hungry? Or that many pet formulas are so loaded with carbohydrates that they're causing a nation of carboholic canines? And even worse: Most well-intentioned pet owners are overfeeding their dogs by 25 percent every day. The good news is there are simple ways you can turn the tide for good—and for the good of your dog. You'll discover:
Must-know tips for stocking a healthy pet pantry
Homemade meals and healthy treats that won't pack on the pounds
How to avoid the unscrupulous marketing and packaging of some pet foods, supplements, and weight-loss formulas
The best activities and exercises to maximize your pet's fitness without maxing out your time.
With cutting-edge science and ultra-practical tips, Dr. Ernie will help you give your dog the gift of great health that he or she deserves.
Simple Solutions Obesity: With Weight Loss Tips

Dogs love food–in their bowls, on the floor, or off your plate. Yet a combination of too much food and too little exercise can create a recipe for disaster for your pup.
This helpful guide details the dos and don'ts of doggy diets and offers tips on slimming your dog by controlling food portions and making exercise fun. With the practical suggestions provided in this book, you can transform your couch pet-tato into a fit and happy canine.
Plump Pups and Fat Cats: A Seven-Point Weight Loss Program for Your Overweight Pet

If your portly pet has gained too much weight, it can lead to health problems such as diabetes, hip and back problems, respiratory and cardiovascular diseases, and cancer. Pet owners concerned about their dog's or cat's weight problem can lead their pet out of obesity by following the sound advice and practical ideas in Plump Pups and Fat Cats. Animal behaviorist Steve Duno (author of Last Dog on the Hill) has developed a seven-point weight-loss program not unlike the ones that work for humans: the plan emphasizes eating the right foods at the right times, exercise, and directing your pet toward healthier activities than munching on kibble.
Duno's first point of order is to ask pet owners to take a hard look at their pet's poor eating habits and the role the owner plays. After all, as Duno points out, dogs and cats can't open the refrigerator themselves. By recording your pet's weekly eating and activities in a journal, you may be surprised at how many extra table scraps and snacks, and how little exercise, Fido or Fifi actually gets. Duno then helps you figure out your animal's caloric needs, based on age, weight, breed, and activity level.
By following the guidelines and suggested activities in Plump Pups and Fat Cats, pet owners will learn from Duno's firm but friendly manner how to take charge of their pets' lifestyles and get them back on a healthier, happier track. –Kris Law
Dieting with my dog – One busy life, two full figures … and unconditional love
The veterinarian rubbed Kelly's sides for emphasis. "She needs to lose weight. If not …" Peggy Frezon recognized the list of serious ailments that followed. It was the same one her own doctor had given her.
Dieting With My Dog is the honest and heartfelt story of how one overweight woman and her chubby spaniel struggled to get fit and healthy together. Theirs was a comfortable routine. While Frezon's children were flying the nest, her loyal rescue pup snuggled close. Sneaking M&Ms from her secret stash, she would slip Kelly extra doggy cookies too. Why not? Food is love. But then, Kelly became the motivating factor that led Frezon to face down the physical and emotional reasons for her overeating, and for overfeeding her dog. She learned that embracing change is healthy, and everything is easier with unconditional love.
Join Frezon and Kelly on their journey to weight loss with a wag. Dieting With My Dog celebrates our close bonds with our pets in times of both need and triumph. This book is for anyone who has ever loved a pet – through thick and thin.
What Cats Should Eat: Keep Your Cat Healthy with Good Food
You love your cat. And, of course, you want to keep your cat healthy for as long as possible. The one thing you can do that will make the most difference in your cat's health is to feed a wholesome, high quality diet. But with hundreds of brands and flavors of cat food on the shelves of grocery and pet supply stores, and contradictory information all over the Internet, how do you know which food is right for your cat?
Many serious feline health problems have a dietary component. Some are directly caused by diet, and all are affected by it. These medical problems can damage your cat's quality of life, as well as your wallet, since many of them, such as diabetes and kidney disease, are expensive to diagnose and to treat, and are very dangerous for your cat.
Learn how to read a cat food label. Find out which ingredients to look for, which ones to avoid, and how certain unappetizing animal 'parts' can be disguised in cat food.
Discover how pet food companies manipulate the labels and advertising to fool you into thinking their food is best–when it may be one of the worst!
Dry, canned, semi-moist, homemade, or raw? There are advantages and disadvantages to every diet; some are safe and some are not! Find out which of these is best for your cat!
Get the complete list of "Dr. Jean's Approved Brands". You don't have to spend hours reading labels; it's been done for you! Get the benefits of Dr. Jean's extensive research and find out, once and for all, which brands pass her strict standards (and which don't) and where to buy them!
Find out what supplements your cat needs. There are hundreds of supplements out there. But don't waste your money … there are only three supplements that every cat needs!
How to get your cat to switch foods. It can be a frustrating process…until you know these tips and precautions.
Many new additions, enhancements, and updates in this September 2012 edition!
Please Don't Feed the Daisy: Living, Loving, and Losing Weight with the World's Hungriest Dog
When Jason moves in with Bev, it's supposed to be temporary. But then Daisy the Chihuahua comes to stay. Just two-and-a-half pounds when they adopt her, Daisy is a charmer. And soon, an eater. Hot on her heels comes Elvis the pug, and then, of course, their puppies! Instead of losing her baby weight, after giving birth to four puppies, Daisy gets even chubbier and soon outgrows even her fattest fat sweaters. Bev and Jason decide it's time for everyone, including the two of them, to pull together, lead a healthier life-style–and in the process become a family (albeit an unconventional one).
Please Don't Feed the Daisy is the wickedly funny, remarkably useful story of their journey toward becoming that family, and a fit one to boot. Packed with yummy, fun, diet- and earth-friendly recipes for both dogs and people, as well as training tips and the Happily Ever After Maintenance Plan, this is a heartwarming and healthy tale for dog- (and food-) lovers everywhere.
Recommended Reading
Tripawds Nutrition Blog: Best Tips for Keeping Your Tripawd Slim
Tripawds Downloads Blog: Fat Dog Diet Conversation with Dr. Khuly
DISCLAIMER: Please be aware that we are not veterinarians. The information presented here is not meant to be construed as medical advice or guidance, nor should it be substituted for professional veterinary assistance. Always discuss any remedies and treatments you wish to pursue with your veterinarian. 
Tripawds is a user-supported community; all purchases made here help us continue providing resources and support to our Tripawd families. Thanks for shopping at Tripawds!