Every animal enters our life for a reason. When it comes to first-time author Tim McHenry and his beloved Tripawd dog Dixie, it's clear that it was her destiny to make an impact on the world with a heartfelt, entertaining book about survival, courage and hope.  A Leg to Stand On: A Shared Journey of Healing is a must-read book for every dog lover, but especially for those of us who have been touched by the Tripawd journey.
A Leg to Stand On is a true story about Dixie, a yellow lab who spent the first year of her life tethered to a rope in a backyard. One tragic day, Dixie was able to escape from her tether but was tragically struck by a passing car during her first moments of real freedom. She limped home for help, where her uncaring humans ignored her broken, mangled leg for three days before relinquishing her to a nearby shelter.
The kindhearted shelter workers and a local vet saw a sparkle in Dixie's loving eyes and opted to help her through her pain by amputating the unrepairable leg. A few days later as Dixie languished in a kennel recuperating from her surgery, she and Tim, a single parent finding his way through a difficult time in life, set eyes on one another. Tim had most recently lost his beloved dog to bone cancer and was finally ready to bring another pack member into his life. Dixie's eyes told him she was the one.
Soon thereafter this match made in heaven began their shared journey of love and caring for one another through some of Tim's greatest challenges, losses and victories in life.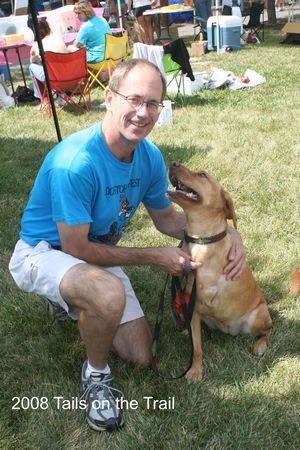 In reading this book I find it surprising that it's the author's first attempt at a full-length memoir. He tells a captivating story both from his own perspective and that of Dixie's, and keeps readers wanting to find out more about how these two set out to make life so much better for each of them. Tim is a dog trainer for Petsmart but it's clear his real calling is being an author.
I haven't even finished the book yet, but am so excited to share it with you that I want to make sure you know about it as quickly as possible.
 A Leg to Stand On: A Shared Journey of Healing is a must-read. Do pick up a copy here and let Tim and Dixie know on their Facebook page that you found out about it here on Tripawds! Let's help spread the word so that this wonderful book reaches and inspires as many folks as possible about the amazing capabilities of three-legged animals.
All sales of any product whatsoever that are made through links found in this Tripawds Amazon blog will help to support the Tripawds community.
Thanks for shopping with Tripawds!
Save