Pick up a copy of Why Dogs Hump and Bees Get Depressed and you'll learn why. In this entertaining new book of short essays written by Dr. Marc Bekoff, a world-acclaimed animal behavior scientist and expert on animal emotions and the human-animal bond, you'll gain a whole new perspective on how we treat "nonhuman animals" and the consequences of our actions.
The Importance of Kindness and Empathy Toward All Species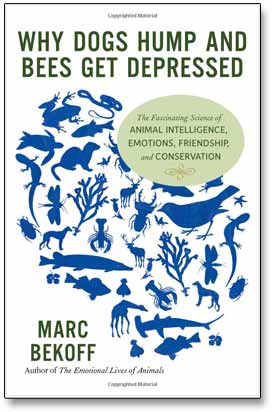 As Tripawd pawrents we share an exceptional bond with our three-legged heroes. All of us have witnessed the incredible resiliency and courage of our Tripawds, which usually far exceeds our own capacity to overcome such challenges.  This is why we feel that you as a Tripawd guardian will find this book a fascinating, entertaining and hopefully life-changing read.
Recently we received an advance copy of this book by the publisher, New World Library, and were pleasantly surprised by the accessible way in which Dr. Bekoff shares fascinating new research about animal-centric issues such as:
Animals and Us: Reflections on Our Challenging, Frustrating, Confusing and Deep Interrelationships with Other Animals
Media and the (Mis)representation of Animals
Who We Eat is a Moral Question
Against Speciesism: Why All Individuals are Unique and Special
Dr. Bekoff is a scientist by trade but also a brilliant writer who helps laypeople like us understand the intimate lives of "nonhuman animals," a phrase he advocates using in order to distinguish the fact that we too are animals and "that all animal species share a continuum of being, which includes the way we feel and what we think."
In Why Dogs Hump, he helps us reach a deeper level of understanding for all creatures. Essays such as "Grieving Animals: Saying Goodbye to Friends and Family," validate what animal communicators have long been telling us but until recently were discredited by the scientific community: that animals of every size and species possess a level of intelligence and emotions deserving of the same amount of respect and protection that we give to humans, if not more. Our earth's very existence depends on it.
". . . In my essays I try to highlight just how much we can do to make the lives of all animals, including humans, much better than they currently are. I hope these essays inspire all of us to do what we all can to foster local and global compassion and peaceful co-existence. It is not that difficult to do so. We simply need to change our mindless ways of interacting with other animals and with one another to reflect how much we really care about our collective well-being."
There is so much we can learn from this book. From watching the behavior of ordinary crows to questioning the existence of zoos, Why Dogs Hump will open your eyes to a whole new way of relating to other species. This book deserves a place on your bookshelf and every animal lover you know.

For more fascinating research by Dr. Bekoff, be sure to catch the PBS documentary NATURE: Why We Love Cats and Dogs, featuring Tripawds Founder Spirit Jerry. In this hour-long episode, Dr. Bekoff explores our relationships with dogs and the multitude of ways in which we benefit one another's lives.