Confused about how to feed your dog or cat a homemade diet? Well of course you are, there's an incredible amount of information  about how to make dog and cat food at home! That's why we try to cut through the noise for you with helpful recipes and tips for home cooking for your pets. Here's one of our favorite resources.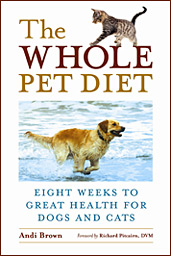 The Whole Pet Diet: Eight Weeks to Great Health for Dogs and Cats by Andi Brown

From Andi's website:
One in four pets is obese, and every year owners spend thousands of dollars treating allergies, joint problems, digestive disorders and serious diseases that could improve dramatically with a homemade nutritious diet.
Consider this all too common situation: A pet is gravely ill, and the veterinarian prescribes cooking chicken and rice, or beef and rice. The anxious and hopeful pet owner races home to make these prescribed meals and endeavors the process for a week or two. On their next trip to the vet, the pet is pronounced well and the vet instructs the owner to go back to the original food, which again triggers the problem. But this only perpetuates a downward health cycle. Why not feed the same high-quality, real, wholesome, and healing food as the pet's steady diet, every day of their life? Why should they eat great food only during times of sickness or disease? Why shouldn't our pets be eating healthfully every day to promote optimum vitality, and wellness?
With over 25 quick and easy recipes for home cooked meals and treats, and a guided weekly journal to track your pet's progress, this book is a must for anyone who's ever wondered how they can have a healthier pet, and help avoid the use of costly drugs or surgery
It's Never Too Late to Eat Well!
"If you believe like Andi Brown does that pets are integral to the family as they are to the ebb and flow of life, then this book will dramatically improve the health and vitality of all your four-legged family members".

DR. MARTY BECKER, veterinary contributor to Good Morning America and author of The Healing Power of Pets
Awaken your own inner, sensible pet. You'll learn the secret of making better choices to enhance your pet's life and tap into their own natural healing powers. Find out how thousands of happy pet owners have made simple changes in their pet's lifestyle and achieved new vitality to create the pet of their dreams. There's not a dog or cat in the world that won't benefit from this eye opening book. Treat your pet to the best life possible, and become the healing artist you were meant to be!
Order your copy today!
The Whole Pet Diet: Eight Weeks to Great Health for Dogs and Cats by Andi Brown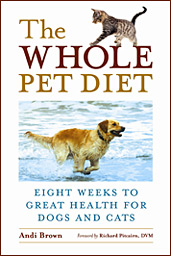 Then, visit The Whole Pet Diet website for great blog posts, helpful newsletters and free recipes like Doc's Stew!
The Whole Pet Diet Chicken Stew
aka Doc's Stew(r) – My Newest and healthiest updated recipe from my book
Special note: use organic ingredients whenever possible
5 pounds Whole Chicken or Turkey (bones, organs, skin and all) Beef is fine too!
6 – 8 cups spring water
1/2 pound of additional beef liver, or chicken liver or turkey liver (your choice)
1/2 pound of wild salmon
2 cloves chopped fresh garlic
1/2 pound green peas
1 pound coarsely chopped carrots
1/2 pound coarsely chopped sweet potato (yam) (This may be omitted, if your pet is sensitive to grains or starches)
1 pound coarsely chopped zucchini
1 pound coarsely chopped yellow squash
1/2 pound of coarsely chopped green beans
1 pound coarsely chopped celery
1/4 teaspoon kelp powder Dash of dried rosemary
See Chef's Tip on Freshly Grated Toppings
For Dogs: Add 12 oz. of Rolled Oats and adjust the water content to a total of 12 cups or enough to just "cover" the ingredients.
(I don't recommend the grains portions for cats)
Combine all ingredients in a 10-quart stock pot (stainless steel, please). Bring to boil, reduce to low, and simmer for about 1 1/2 hours. Once finished (your carrots are soft), let cool and de-bone the chicken by hand. With an electric hand mixer (I use one available from Sears for about $19) or a food processor, blend all the ingredients into a nice puree. Using plastic yogurt containers, or Tupperware, make up "meal-sized" portions or what you will need for three days, and freeze what you don't need immediately. Be sure and seek your pet's advice for ideal meal sizes. Also, never serve cooked chicken bones to a pet; they splinter easily.
Yields: 20 cups for cats and 26 cups for dogs
Cat Feeding Directions: Average adult cat will eat roughly 1 cup a day; more or less depending on age, activity, level, current health, and season.
 Hop over to The Whole Pet Diet blog to read about feeding instructions for this recipe, and much more!
Thanks so much for remembering Tripawds by shopping through this Amazon blog! Remember, start your search in the box at the right or clicking on this image below. Thanks!