Flea and tick sprays with natural ingredients like neem and cedar oil are great options for dogs and cats who live in places with a low risk of being invaded by these bugs. The best places to avoid fleas and ticks are low-humidity areas, a hot, dry climate or high altitude mountain states.
This flea risk map explains where the risks are greatest and lowest:
And this map shows which types of ticks are found where. Deer ticks carry Lyme Disease. Scary!
If your pets have a low risk of parasite invasions, here are some great all-natural flea and tick sprays that we've personally tried on Tripawds Spokesdog Wyatt Ray. We've never once used topicals like Frontline, and he's never had a flea or tick problem, so we know these all-natural flea and tick sprays are doing what they're supposed to do.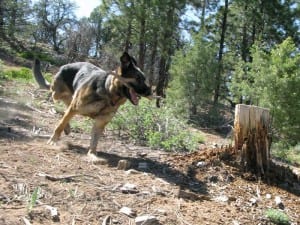 You can feel good about reducing your dog or cat's risk of flea and tick invasions when using all-natural flea and tick sprays. The only downside is you have to apply these sprays religiously at least every two days, and after each time your pets get wet, in order for them to work well.
We thought this worked well for flea-prevention, but didn't do so great of a job keeping a tick or two off of him.
The active ingredients in Neem Protect Spray are Neem and citronella. Neem is a natural tree oil that has been used for thousands of years to repel lice, mites, flies, mosquitoes, fleas, gnats, and ticks and soothe itching and skin irritation. Neem Protect is safe and effective for dogs and cats 12 weeks and older
This worked great on both fleas and ticks, but the bottle leaked on us two separate times during shipping.
Chemical Free – No Pyrethrins or Permethrins
Kills & Repels Fleas & Ticks with documented residual for up to 7 days
Use directly on pet and on pet bedding and surroundings
Safe to use on puppies and around children and other animals
We really like this one. It's scent is more pleasant than Natural Flea & Tick Spray for Dogs.
Kills fleas ticks and mosquitoes on contact
Safe for dogs and cats 12 weeks or older
Pets may be treated indoors or outdoors
May be used year round
This unique blend of Peppermint Oil and Clove Oil Extract was formulated to kill both live fleas and flea eggs and ticks, by contact, naturally and safely. Plus it soothes skin to leave pets comfortable and smelling fresh as can be.
We just started using this one and it seems to be working well. The scent is stronger than any of the aforementioned products, which leads me to believe that it's longer lasting and we won't need to reapply it as much.
Kills and repels fleas and ticks, yet it's safe for use around children and pets when used as directed – even in multiple-pet households. Each easy-to-use pump spray features natural active ingredients such as peppermint oil, cinnamon oil, lemon grass oil, thyme oil and eugenol.
Recommended Reading:
Tripawds Nutrition Blog: The Flea Dilemma for Cancer Dogs
Tripawds Nutrition Blog: Fight Fleas Naturally with Cedar Oil
PetMD: Where are Flea and Tick Populations the Worst?
Thanks for shopping through this blog for all of your Amazon purchases! A portion of your purchases help to keep the Tripawds community online.