People who feed their pets a raw meaty bones diet are putting their pets and entire households in jeopardy and should consider other diets, says Dr. Camille Torres-Henderson of Colorado State University's James L. Voss Veterinary Teaching Hospital Small Animal Practice.

Adherents claim that pets eating raw diets have shinier coats, healthier skin, cleaner teeth, improved immunity and easier weight management. Impassioned testimonials about raw food diets often include anecdotes that might seem persuasive.

Unfortunately, there is no scientific evidence to support such claims, and the veterinarians at Colorado State University do not recommend feeding raw diets to pets. — Dr. Torres-Henderson
In this June 10, 2014 article published by CSU, Dr. Torres-Henderson goes on to advise pet parents to "analyze nutritional claims and look for the research to support those claims, especially if they seem too good to be true."
While much of the raw feeding success stories are anecdotal, it's hard to dispute these examples of how well the diet works for certain cats and dogs when you experience the benefits firsthand. We respectfully dispute calling it trendy, when the raw food diet for pets has been growing in popularity since the early 1990s.
We saw the raw diet benefits ourselves when Tripawds founder Spirit Jerry ate raw, and we see how bright and clean our Wyatt Ray's teeth stay because he loves gnawing on a raw meaty bones.
Yes there's a salmonella risk when feeding raw, but when you consider how often commercial pet food is recalled for the same reason, the risks seem on par with one another don't you think? CSU cites other reasons for not choosing a raw diet, including choking on bones and nutritional deficiencies, of which most veterinarians will concur.
A raw deal? The trendy 'ancestral diet' might not be best for your pet.  — CSU's Dr. Torres-Henderson
There's one thing that we can agree with when it comes to this article: there is no one perfect way to feed a dog or cat. We recommend doing your research and working with a holistic-minded vet to decide if a raw food diet is right for your pack.
Meanwhile here are some great resources for learning more about feeding a raw diet to your dog or cat so you can talk to a vet about your findings.
The Barf Diet
(Raw Feeding for Dogs and Cats Using Evolutionary Principles)
What Your Dog Is Begging For!:
Raw Meaty Bones, Your Dogs Best Friend.
Dr. Becker's Real Food for Healthy Dogs and Cats
Tripawds Spokesdog Wyatt Ray says "Eat more bones!"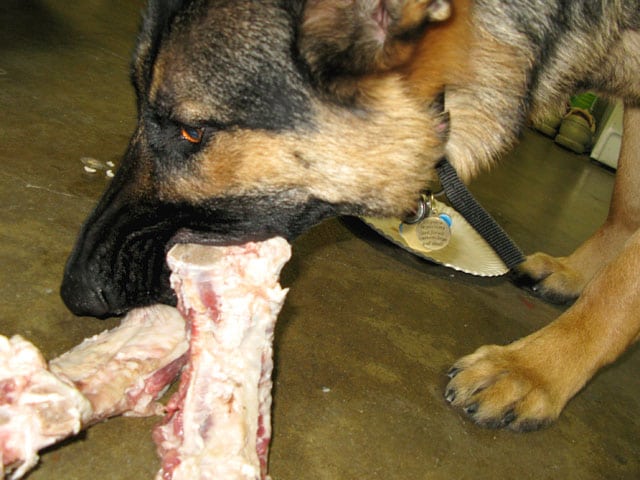 Thanks for doing all of your Amazon shopping through this blog,
a small portion of sales helps to offset the costs of keeping Tripawds online.