Santa Paws says it's not too late to get your favorite Tripawd dogs and cats (and their four-legged pals too) cool gifts for the howlidays!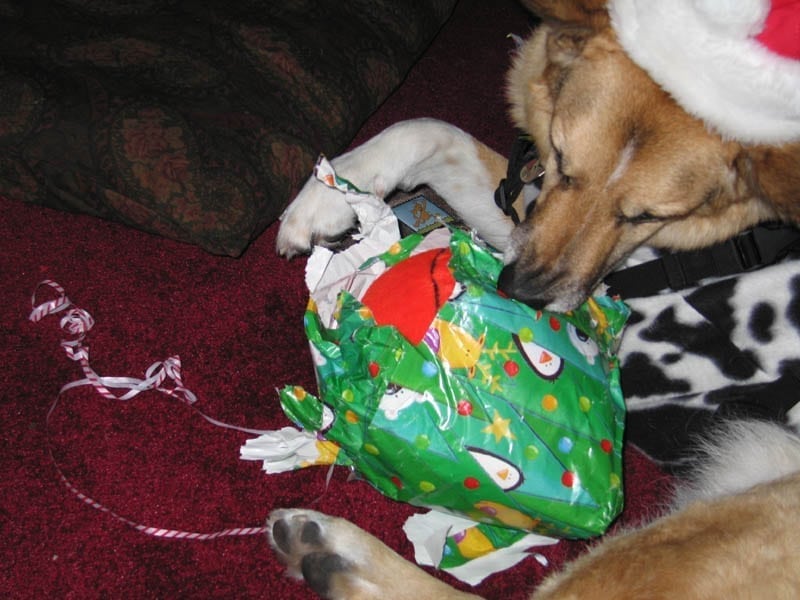 Here are fun gift tips for your furry kids and remember, for any products you buy at Amazon through these links, whether it's a product we recommend or one you find on your own, a small portion of every sale helps keep the Tripawds Blogs community online. Thank you for your support!
Best Gifts for Tripawd Cats
Cats are natural hunters. Even when living with humans, a cat's motivation to hunt remains strong. Playing with toys stimulates predatory behavior, teaches social skills and coordination, and keeps your cat entertained.
Featuring an electronic sound module that sounds just like a real mouse, Play-N-Squeak Toys are designed for healthy mental and physical stimulation, keeping cats alert, agile, and healthy, and rewarding them with tactile feel and catnip aroma. Play-N-Squeak Toys will keep your cats busy and positively engaged with you and the world around them while exercising their unique instinctual needs. Enrich the life of your cat, and "bring the wild inside"!
The idea behind SlimCat is to distribute an adjustable amount of dry food when the cat plays with it. SlimCat can be used by all cats. Overweight cats can particularly benefit from SlimCat.
Features:
Fights obesity and helps to maintain optimum weight
Enriches the cat's environment and improves alertness
Fun source of play and exercise
Improves cat's digestion by eating small portions several times a day
Holds up to 2/3 cup and compatible with most dry cat foods
FDA approved plastic, dishwasher safe
TRIXIE Pet Products Baza Cat Tree will provide endless opportunities for cats to play and scratch or just relax. Felines can sharpen their claws on any one of two scratching posts instead of on your furniture or carpet, giving them a healthy outlet for their scratching instincts. All posts are covered in durable sisal. For a nap or a cozy retreat, the cat can curl up in the cozy hammock which is covered with ultra plush material both inside and out. It also has a metal rim for added support. Cats can bat around the dangling pom-pom toy for added fun.
Award winning, medically endorsed case provides back-saving, lightweight transport of pet. The bag is sturdy, discreet, stackable and maneuverable. It features 3 zippered entrances, roll down privacy flap, washable padding, comfort fleece and fiberglass construction that provides the ultimate in protection for your pet. Accommodates pet up to 18lbs and fits under most airplane seat.
Best Gifts for Tripawd Dogs
The idea behind the Nina Ottosson Dog Tornado is for the dog to dislodge the removable bones then turn the revolving sections to reveal the hidden treats. The Tornado has many variables to increase the level of difficulty as the dog's skill improves. With a little practice he will soon learn to dislodge the bones and turn the Tornado to access the hidden rewards."
The Squirrel Dude is high durability and a funky bounce coupled with the patent pending Treat Meter provide dogs with hours of fun!
Holds three cups of food or treats
Adjustable openings to regulate difficulty
One size works for any dog
Anti-slip bottom
"(The Big Barker) is an 'investment' but I've spent that many times over trying to get a good bed for my dogs and they don't retain their shape or support AND this bed is made for bigger dogs." ~ Tripawds Member Benny55
PetGear strollers are a great way to take your pet with you on a long walk through the park, a walk around the block, or maybe even shopping at the mall. They safely contain and protect your pet wherever you go! The Expedition is great for large dogs. It features a sturdy frame and rides low to the ground for easy entry, a waterproof floor, front swivel wheels, rear brakes, and bug proof mesh that provides air circulation.
For more great gift ideas,
check out Amazon's Amazing Pet Supply Store!
and help support the Tripawds Community!