If anyone knows about pet first aid and adventures it's longtime Tripawds member TC Wait, dog mom to a pack of twenty Huskies, led in spirit by the one and only Calpurnia, a Tripawd musher extraordinaire.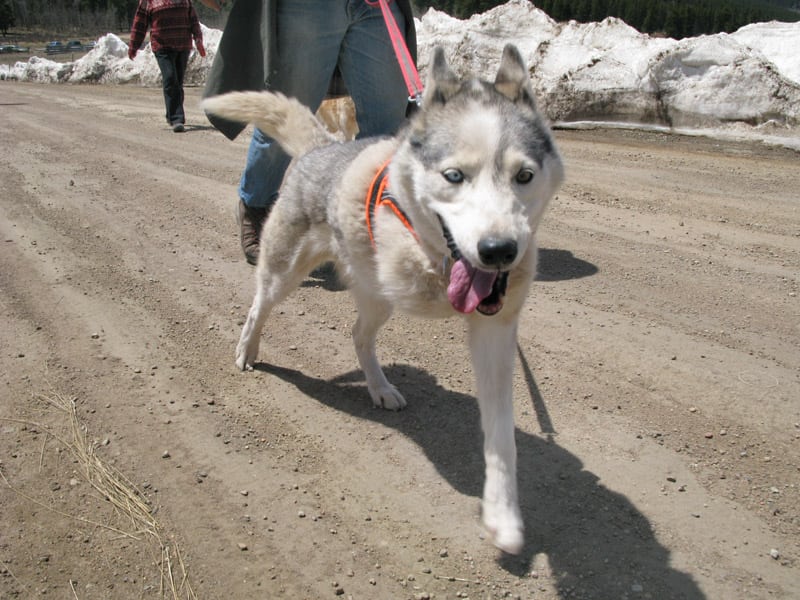 Always in awe of the Odaroloc Sled Dog's wild times in the Great White North, we asked TC if she wouldn't mind sharing her essential "Must Haves" for the doggie first aid kits she totes to Alaska and out on the sledding trails.
As an ever-supportive Tripawds member, TC gladly shared her tips and tricks for medical emergency pet care. Although we hope you never have to use it, we know you'll find her insight as useful as we do. Here goes:
"Having adventures with your canine companions are one of life's great joys, and for many of us, one of the reasons you have a furry dog buddy. Dogs make great hiking, biking, running, canoeing, camping, swimming, skiing, sledding, Frisbee, you-name-it buddies, and being active is good for both human and canine friends. However, with fun and adventure comes a certain level of risk that you need to be prepared for – cuts, sprains, and other injuries can happen to your buddy as well as to yourself during any outing. It is good practice to have some sort of first aid kit on hand that can be available if something happens to you, your dog, or someone else who happens to be out enjoying the day.
There are all sorts of pre-packaged first aid kits that you can get online or at sporting stores. Most (but not all) of the items that are sold for human use can also be used for dogs. You need to be aware that many over-the-counter medications (such as Ibuprofen) that are safe for humans to use can be very toxic to animals. Additionally, a human-sized bandaid isn't going to be very helpful for an injury on your Chow-chow, so any first aid kit will need a certain level of modification to make fit for both species.
The best place to start is a chat with your veterinarian. A good working relationship between a pet owner and their veterinarian is the best bet to ensure the overall health of any animal. Your vet knows the specific needs that your dog has, and can help you find items to include in your kit specifically for your dog, and the activity you are planning. They can also identify items in your kit that should NOT be used on dogs, which you might want to mark somehow so that any future need can easily identify and avoid them.
You should also sit down and ask yourself some questions.
What sort of trip are you planning?
How long of a trip are you expecting?
What type of injury might occur?
Where are the closest resources you can turn to for help?
Are you in cell phone range?
Do you have local veterinary numbers written down?
Does your dog have special medication or medical needs to plan for?
Are there particular environmental conditions (extreme heat, cold, remoteness, noise, poisonous plants/animals, etc.) to take into consideration?
Are there any special logistics, vaccinations, or medications you may need where you are going (ie international travel, or areas where there may be parasites that you do not have in your area, such as fleas, heartworm, ticks, etc.)?
These questions are important to consider for every outing you take. A day hike near your home requires a different level of preparedness than a multi-week backpacking trek with your dog along the Appalachian Trail, for example. Once you have an idea of the scope of your trip, you can better plan what you may need as far as first aid. It may be useful to have several different first aid kits assembled, for day trips up through a range of adventures you may have planned. Once you have your materials gathered, you need a convenient way to store them. A toiletry travel bag or an old "bum bag" can be used as an easy grab-and-go first aid kit. For larger adventures, you might consider a small suitcase or duffel bag.
It is always good to have basic first aid training of some sort – from the basic course you can take at Red Cross to extensive wilderness first aid training to deal with emergencies when help is not nearby. Your veterinarian can also help guide you for what to do on longer, more remote trips where veterinary care may be some time or distance away. If you have multiple dogs, be sure to ask your vet for dosage of any medications (over the counter or prescription) for each dog, and write it down in your kit. Additionally, having some reference books on hand can be helpful. There are a number of emergency care guides specifically for dogs that are available. It is good to look through them a little before the need arises to familiarize yourself with them – you can even add tabs to sections that may be more useful for your adventure so you can flip to that page quickly.
Putting this all together takes some time, but to give you some ideas it might be helpful to peek inside our first aid kits. For full disclosure, our kits are designed for our particular location and canine adventures. Each winter we travel north to our cabin in Alaska with our 20 sled dogs and 2 cats. We take multi-day winter camping trips by dog sled through remote parts of Alaska, often covering 300 miles or more at a time. Temperatures can get pretty chilly (it is currently -33F), so many things that are brittle plastic or in liquid form cannot be used. Even at our cabin, the closest veterinarian is 2 hours away, and on the trails vet care could be days away. This is likely very different than the activity you are planning, so keep that in mind!
Day Trip Doggie First Aid Kit
Bandaids (standard size)
4×4 gauze pads
Diaper or sanitary napkin (don't laugh-they are super absorbent for wounds)
Roll of 2-inch wide vet wrap
Roll of 4-inch wide vet wrap
Moleskin
Superglue
Ibuprofen (pain/anti-inflammatory – human)
Rimadyl (pain/anti-inflammatory – canine)
Benadryl (allergic reactions)
Yunnan Baiyao (bleeding)
Flint and cotton (to start a fire if needed)
Emergency "space" blanket
Orange flagging tape
Duct tape (fixes everything)
Pocket knife/leatherman tool
Trauma shears
Foot cream
Healing salve (made locally from beeswax, olive oil, and herbs)
Extra dog booties
Hydrating Dog Snacks (if going out for more than 3 hours – not in the kit, but in the sled)
Multiple Day Doggie Travel Kit
All of the above, PLUS
Throat lozenges
Aspirin
Latex or nitrile gloves
Loperamide Hydrochloride (anti-diarrheal)
Famotidine (acid reducer)
Tramadol (pain reliever)
Broad spectrum antibiotic
Betadine wash packets (the packets defrost pretty fast)
Prescription meds for dogs that need them
Anti-inflammatory massage oil (for working dogs)
Isotone (hydration supplement)
Sam splint
Soft nylon muzzle
Skin stapler or suture material (with instruction for use from our vet)
Child's t-shirt (to prevent licking on torso)
Dog jacket for each dog (not in the kit, but in the sled)
Dog food and cooker to make warm water for meals (not in the kit, but in the sled)
By far our biggest first aid kit is the one we use when we are on the road driving between Colorado and Alaska. Some of the stretches in Canada and Alaska are very remote, and we need to be sure we have everything we need to keep our animals healthy and comfortable for a long drive. That kit fits in a suitcase, and includes all sorts of things from fluids to specific pharmaceuticals we may need for our dogs with medical issues. If you are doing extensive travel with your animals, the best bet is to work closely with your vet to get exactly what you may need and know how to use it.
Good luck and have a great adventure!"