Tripawds work so hard when they walk. With one less limb to get around, it's critical to take water on walks, car rides and play dates.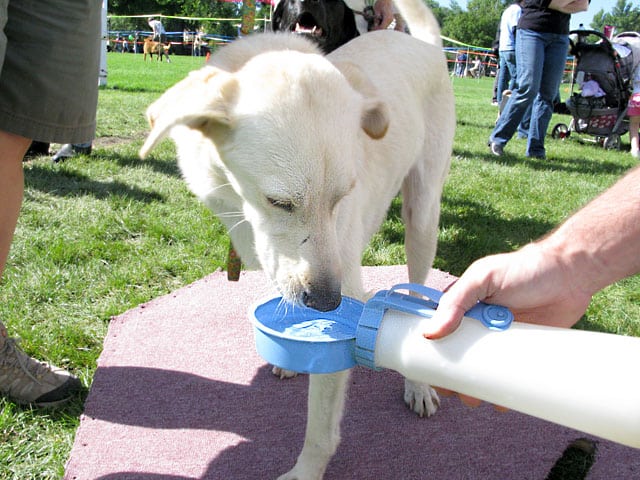 Whether you're headed around the block or on a weekend road trip, keep water with you at all times to quench your Tripawd dog or cat's thirst. Here are some favorite portable dog water bowls that make this an easy habit to start.
We looked for portable cat water bowls but couldn't find any. Holler if you have a favorite for your feline!
The Water Rover Portable Pet Water Bowl is our #1 all-time favorite way to carry water for our Tripawds Spokesdog Wyatt. You can see why:
Hands-Free – Clips to belt or waist band

Leak-Free – Even when held upside down

Waste-Free – Extra water tips back into the bottle

Hassle-Free – Wide mouth bottle is easy to fill with water and ice
Check out these other portable pet water bowls we like:
We used to have one of the Gulpy Water Dispenser back when Jerry was a pup and it lasted several years. These are great for smaller dogs since larger ones tend to gulp the water down at one time.
Easy way to carry and dispense water for your pet.

Flips open so your dog can sip from the attached cup.

Simply flip to open position and gently squeeze bottle to fill tray.

Convenient belt clip for no-hands carrying.

Great for hot days and long walks with your dog.

Colors are assorted.
And here's one we haven't tried but like the way it looks and sounds:
Talk about a very cool idea! The H2Rover Water Bottle for Dogs allows you to water your dog using a hose and spigot attached to the bottom of the bottle. You can still drink safely and hygienically from the top.
Water your dog using a hose and spigot attached to the bottom of the bottle.
You can still drink safely and hygienically from the top.
Machined stainless steel connector between the bottle and hose
Solid no-leak connections
High quality tap valve for dispensing to your dog
The folks at H2Rover are so confident your dog will like drinking from it, they offer a money back guarantee if your dog doesn't warm up to the idea!
Now here's something original! The Pet Top Combo Portable Drinking Device and Short Neck Adapter for Pets lets you turn an ordinary plastic beverage bottle into something your pet can drink from!
Keep this in your car for those times you forgot your Water Rover or H2Rover bottles.
Provides a neat, convenient water supply for pets when on the go

Fits most standard water bottles

Adjust water flow by a simple turn of the cap

Made in the USA using only high-quality, non-toxic materials

Top rack dishwasher safe
Do you have favorite portable pet water and food bowls? Let us know in the comments section below!
Thanks for checking these and other products out at Amazon. Every purchase (pet related or not) made after clicking through links found in this blog enable Tripawds to earn a small commission that helps defray the costs of keeping our community going. Thanks for shopping with Tripawds!