Tripawds members are always in our thoughts but Jill the Cancer Fighting Tripawd Kitty was especially on our minds at the Blog Paws conference when we had the chance to meet Lisa Erspamer, publisher of the adorable book that features Jill, "A Letter to My Cat: Notes to Our Best Friends."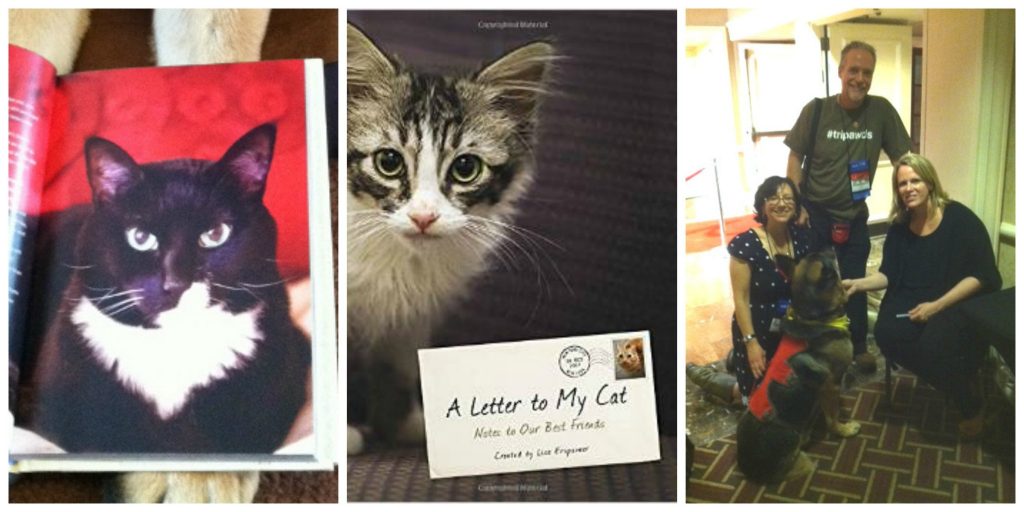 It was such a joy to meet Lisa! We've never had the pleasure of meeting Jill, but the opportunity to say hello to her book's publisher brought use even closer together.
Read Love Letters to My Cat

Anyone who loves animals will relate to the heartfelt letters of catitude in A Letter to My Cat. These sweet thoughts convey the infinite bond between a once-in-a-lifetime pet and their human. Jill's story is especially touching because it relates the journey that she and her Mom had when Jill was one of the few cats in the world who lost a leg to osteosarcoma. Jill's mom Erica writes in her blog:
It is such a honor to be able to share Jill's story.  To be able to show the world that a cancer diagnosis does not always mean the fight is over.  To be able to show the world that the word that once felt like a punch in the gut to me: "amputation", does not mean the end of your kitty's very happy life.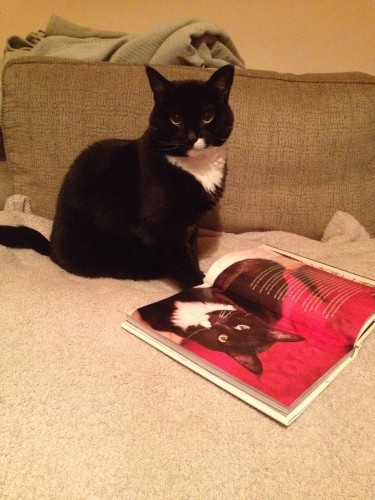 Read all the "Letters" Books
OK so you're owned by canines? Well there's a special book for you too! Check out A Letter to My Dog, also published by Lisa Erspamer:
Dogs know how to talk to us they do it all the time. A pair of raised ears or a wagging tail can speak volumes to those in the know. In this heartfelt ode to the furriest of family members, dog lovers get the chance to say something back, sharing personal letters penned to their beloved companions. With gorgeous accompanying photographs by Robin Layton, this collection of letters and portraits features a wide range of dogs and their owners, including everyday people with remarkable stories as well as celebrities like Hilary Duff, Tony Bennett, and Oprah Winfrey alongside their pooches. Throughout, these tales of perseverance, love, and loyalty celebrate the deep and devoted friendships that humans share with their pups.
Just in time for Mother's Day, the next book in the A Letter to My series (after A Letter to My Dog and A Letter to My Cat) takes on mothers, with celebrities and civilians writing letters of gratitude and admiration to the women who raised them, alongside gorgeous, intimate photos.
This book is absolutely awesome! It was so easy to read. You feel like your reading someone's private letters. I loved that each letter gave you insight into that person's life and relationship with their mother. It was so intimate and so sweet! I didn't realize that a lot of the letters were written by famous people to their mothers until the end. There are also letters from non-famous individual's as well. There are little biographies at the end of the book about each author of the letters. This book would make a great gift for any mother! I plan on writing my mother a 'thank you' note and adding it to the end of the book and giving it to her for her mothers day.
Thanks for checking these and other products out at Amazon. Every purchase (pet related or not) made after clicking through links found in this blog enable Tripawds to earn a small commission that helps defray the costs of keeping our community going. Thanks for shopping with Tripawds!