Losing a limb isn't easy to explain to young children. If you're looking for a heartfelt and educational way to show a child that life on three legs isn't the end of fun but just the beginning of important work in this world, pick up a copy of "TJ has a Job!" the new book by Tripawds friend Kim Fraser.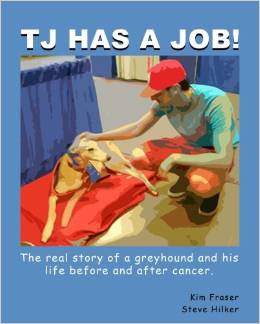 Meet TJ, a Tripawd Hero and Therapy Dog
We go way back with Kim and TJ, a three-legged hero who didn't let cancer slow him down. As a retired racing greyhound and therapy dog, TJ beat osteosarcoma for over three years — and touched many lives as a result.
In 2012 we had the honor of meeting TJ when we spoke at the Greyhounds Rock "Take a Bite Out of Canine Cancer" conference in Fredericksburg, Virginia. Yes, he was as sweet as he looked!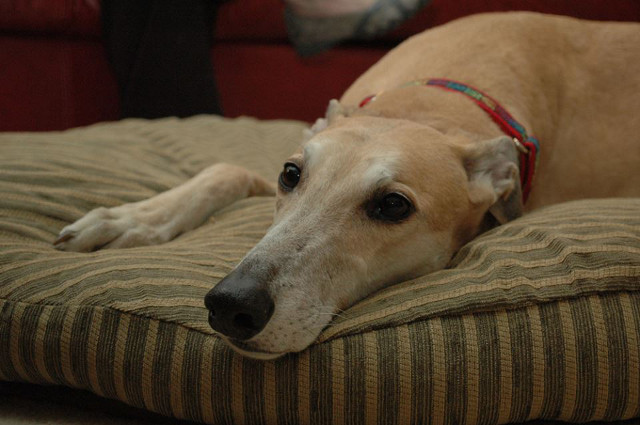 "TJ has a Job!" is the real story of a greyhound's journey as he discovers his purpose in life. Follow TJ from the race track to his forever home where he learns to be a therapy dog and the challenges of finding his new role post-cancer.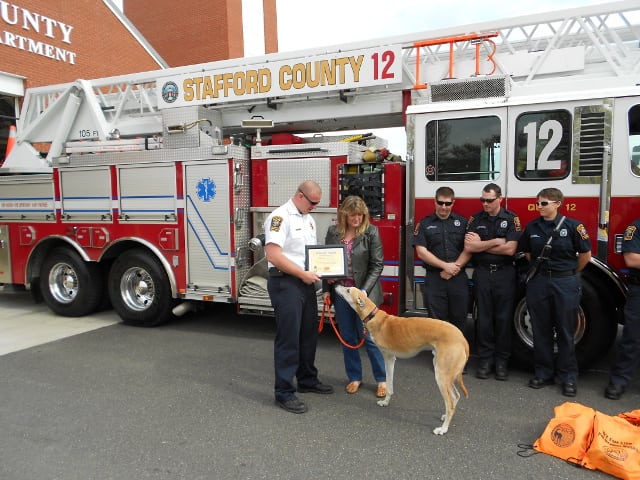 This book is dedicated to all cancer survivors (furry or not) who have adapted to their new world and found ways to help those still finding their way.
100% of the proceeds of this book go to Greyhounds Rock Fredericksburg, a pawesome group that raises money for canine cancer research, education, and awareness.
Get your copy of TJ has a Job! and help fight canine cancer!