Do you know how to tell if your dog is in pain? We sure didn't when Tripawds founder Jerry was diagnosed with osteosarcoma. By the time he outwardly displayed signs of the tumor growing in his scapula (lack of appetite, limp and panting) his pain was unbearable. To this day we feel guilty about our obliviousness to the pain he endured for several weeks until his cancer was diagnosed, but we just didn't know any better back in 2006.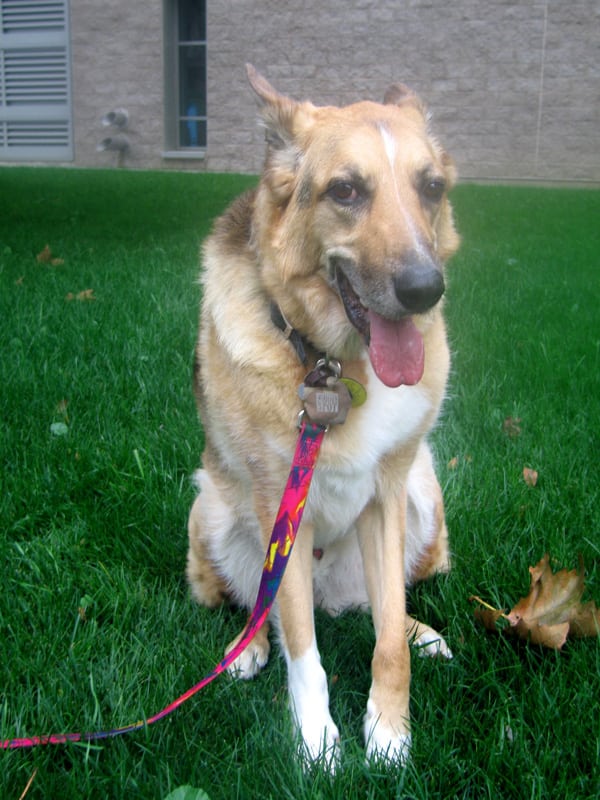 Thankfully, the new and exciting field of veterinary pain management is working toward a time when the dogs and cats of today and tomorrow never have to endure this kind of excruciating, unrecognized pain. Veterinary pain management specialists like Dr. Mike Petty are getting the word out to pet parents everywhere through the International Veterinary Academy of Pain Management and his new must-read book, Dr. Petty's Pain Relief for Dogs: The Complete Medical and Integrative Guide to Treating Pain.
Every Dog Parent Needs Dr. Petty's Pain Relief Guide
Thousands of books about dog health are available but few, if any, are solely about keeping our dogs pain-free. As the first book of its kind that we know of, Dr. Petty's Pain Relief for Dogs is a must for every dog parent's bookshelf. Odds are that every one of our dogs will experience some type of pain at some point in his life — do you know what to do when it happens? Dr. Petty's book explains it all.
Here's just some of what you'll learn:
How to recognize signs of pain in your dog
What causes chronic, ongoing pain?
How to find a qualified veterinary pain management specialist and what to expect.
Which pain management treatments are worthwhile and which ones may not work at all.
What to believe about diets and supplements for treating dog pain.
How to evaluate quality of life when chronic pain is involved.
There's even an entire chapter all about living a pain-free life as a three-legged dog!
Dr. Petty is one of the world's leading veterinary pain management specialists, yet he explains everything in simple terms that us laypeople can understand and implement. He takes the mystery out of knowing when our dogs are in pain and gives us clear action steps on what to do next. There is no other book available that gives us dog parents this kind of knowledge about pain in dogs.

This Book Will Help Your Dog Live a Pain-Free Life
It's no fun thinking our beloved pets might experience tremendous pain. But the reality is, most healthy dogs will at some point endure a painful situation, whether it's because of a tooth extraction, chronic osteoarthritis, major surgery or worse.
As responsible pet parents, it is our duty to know how to identify and evaluate pain. Dr. Petty gives us the tools for doing just that, in plain English that anyone can understand. This is required reading for anyone who cares about the well-being of their dogs.
Pre-orders of Dr. Petty's Pain Relief for Dogs are currently being taken here on Amazon. E-books will be released on December 24 and a print edition will be available in February. We'll post another reminder when paper copies are available.
Recommended Reading
Tripawds News Blog: Dr. Mike Petty Shares Tripawd Amputation Pain, Rehab Care Tips
Tripawd Talk Radio: Learn How to Recognize, Treat Pain in Your Pets
Thanks for checking these and other products out at Amazon. Every purchase (pet related or not) made after clicking through links found in this blog enable Tripawds to earn a small commission that helps defray the costs of keeping our community going. Thanks for shopping with Tripawds!