There's no easy way for us to explain to kids why their pet went to the Rainbow Bridge. Thankfully talented authors like Karen Nicksich make the discussion easier.  Her new book about coping with pet loss "The Time of My Life" is a great story and a must-have tool that every parent needs on the bookshelf if there are kids and pets in the home.
Tripawd Hero Max Inspires Healing through Words, Art
Many great books about pet loss exist but only the best are inspired by a three-legged hero! Sure, we're a little biased but Karen's book caught our attention because of how she was inspired to write it. After her beloved Max was diagnosed with osteosarcoma and she was given the grim prognosis by her vet, she says:
"That night I had a dream. An angel told me that I was going to write a book about how animals see the whole process of living and then crossing over. The very next day I began writing my book. Max sat next to me the entire time I was writing. The day I finished writing my book was the day Max crossed over. Max lived 1 month after I saw our vet."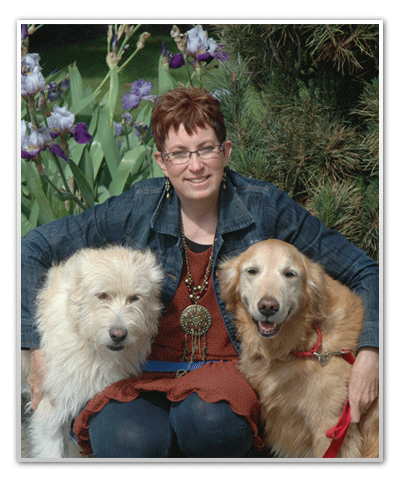 Available here on Amazon, on Karen's website and for a discount at Alibis.com, Karen's heartfelt story is about a young girl named Anna who lives with her family at the Lilac Doggie Rescue Ranch. With the help of Duke the Great Dane, Anna and the animals at the ranch learn about the importance of "Divine Time" and gratitude as they celebrate the life and passing of one of their dearest friends, an aging Golden Retriever named Dante.
The story is told through the wisdom and love of angels, a Wise Old Tree, and the many animals living at the ranch. This book is appropriate for anyone who has lost a companion animal and to help children better understand the passing of a pet.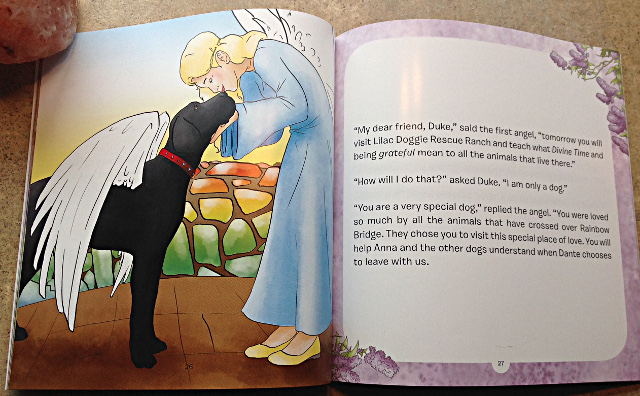 "People are looking for answers when it comes to the health of their animals, says Karen on her custom dog collars website Emerald Halo. "I would like to 'lend a paw' and give pet owners new options to love and care for their companion animals." In addition to her beautiful crystal dog collars, she uses her expertise as a retired teacher to help us all cope with grief.
Win a Free Copy!
Would you like to win a free copy of Karen's book? If so, just comment below and tell us:
What is the #1 piece of wisdom your pet taught you?
Only one entry per person please.
Contest ends on November 30th at 11:59 pm Pacific time.
One winner will be chosen at random and notified via email.
More Reading
More pet loss books recommended by Tripawds.
More children's books recommended by Tripawds.
Thanks for shopping at Amazon through this Tripawds blog. A small portion of sales made through any Amazon links you see in the blog go toward keeping our community online.