Want to get the best book for the dog and cat parents on your shopping list? It's called "Heal: The Vital Role of Dogs in the Search for Cancer Cures," and here's why we think it's such a perfect gift for the pet parents in your life. Oh and don't be fooled by the title: Heal also discusses how cats are helping cancer research too!
"Heal" is Full of Hope
When you hear the words comparative oncology, what comes to mind? For most of us, those two words don't mean much at first. But once you know why it matters so much, you'll want to explain it to everyone you know.
Comparative oncology is an exciting field of medical research for both pets and people. Arlene Weintraub tackles this big subject in her new book, but she makes it easy to understand and exciting to read about. You can learn more details about comparative oncology in our Downloads Blog post, "Why You Should Care About Comparative Oncology Research," but in short, according to the Puccini Foundation, comparative oncology:
 . . . studies cancers that occur naturally in animals (not just dogs, but also cats, horses and other domesticated animals); it uses its findings to develop treatments and cures that can benefit people, as well as animals.

We used to think comparative oncology was a daunting topic, but then we were sent a press copy of Heal and what a game changer! Now we know that if we want to see a cancer cure in our lifetimes, we all need to shout out to the world that comparative oncology is the answer. Here's how Heal can help us do that.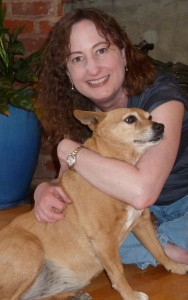 Drawn from extensive research, on-the-ground reporting, and personal experience, this book explores the fascinating role dogs are playing in the search for cures for cancer. Learn how veterinarians and oncologists are working together to discover new treatments — cutting-edge therapies designed to help both dogs and people suffering from cancer.

Heal introduces readers to the field of comparative oncology by describing several research projects aimed at finding new therapies for cancers that are similar in dogs and people, including lymphoma, osteosarcoma, breast cancer, melanoma, and gastric cancer. Weintraub, who lost her sister to gastric cancer, also writes about the emerging science behind the remarkable ability of dogs to sniff out early stage cancer and the efforts underway to translate that talent into diagnostic devices for early detection of the disease. In the course of bringing these dogs and their human companions to life, Weintraub takes her own personal journey from grief to healing, as she shows her readers how man's best friend might be the key to unlocking the mysteries of cancer.
Cancer is not a sexy or happy subject to read about but Weintraub manages to put "Hope" in every chapter. From the success stories of dogs and cats who participated in studies that resulted in groundbreaking cancer treatments, to the insightful way she chronicles her own transformation from feeling hopeless to hopeful about cancer cures, Weintraub's book is a great read that leaves us inspired and excited about the future of cancer research.
Listen to Arlene Weintraub  on Tripawd Talk Radio
On Tuesday we were thrilled to speak with Weintraub herself for this month's edition of Tripawd Talk Radio. Give our chat a listen, then order Heal today so you can pass it around to all of your favorite pet parents during the holidays.
Thanks for starting your Amazon holiday shopping here! A portion of any purchases you make through links found in this blog will go toward helping to defray the costs of keeping the Tripawds Nation online in 2016!