Dealing with dog cancer is hard enough without the information overload that happens when you go online. That's why it's smart to start your research with one of the most reputable dog cancer books around, Help Your Dog Fight Cancer by Laurie Kaplan.
Get Empowered with One of the Most Trusted Dog Cancer Books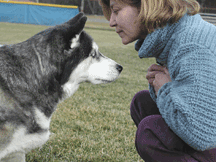 Laurie Kaplan is one of our heroes. Not only because she's one of the first authors of fact-based dog cancer support books for non-veterinarians like us, but because she started one of the first canine cancer assistance funds, The Magic Bullet Fund.
Her non-profit organization helps pet parents who do not have the financial resources to provide cancer treatment for their dog. Laurie is one of the earliest supporters of pet parents who need emotional, informational and financial help when coping with canine cancer.
New Edition: Help Your Dog Fight Cancer
Her book, Help Your Dog Fight Cancer (available here on Amazon), has been re-released in a 3rd edition that includes all of the latest canine cancer developments, such as:
The most common types of cancer in dogs, diagnostic tests and treatment options
The trend toward over-diagnostics and over-treatment
Communicating clearly with your veterinarian and making informed decisions
Decisions about testing and treatment are up to the owner, not the veterinarian…Your dog, your money, your decisions
Create a home-care regimen for your dog with diet and supplements
Follow a step-by-step guide for a proven home made cancer diet for your dog
The book puts veterinary oncology into layperson's terms. It includes information on diagnostic tests, treatment methods, side effects, and end-of-life care.
"As in humans, genetics and diet play a major role in canine cancer, but environmental carcinogens may be more influential," Kaplan says, "as dogs are in closer contact with fertilizers and household cleaning products." She writes that treatment options for dogs are also similar to those for people: surgery, followed by radiation or chemotherapy.
Luckily, the author says, "Dogs tolerate chemotherapy better than people do," with minimal hair loss and quick recovery. The book includes lists of symptoms and discussions of types of cancer along with italicized, often illustrated case studies from pet owners, which lend this informative text a personal touch.
Kaplan also contributes heartfelt reminiscences of Bullet's medical history as a four-year lymphoma survivor. She recommends comparing clinics' fees and getting second opinions. The book has helpful sets of questions to ask one's veterinarian and other useful insights, such as how to get chemo drugs direct from  suppliers to cut costs. She also share information about how complementary medicines and  human-grade food can contribute to continued health. And finally, Kaplan discusses "pawspice" care with down-to-earth advice for coping with end of life care.
We give this book a big "3-Paws Up!" and encourage anyone coping with dog cancer to get a copy at Amazon today.
More By Laurie Kaplan
Heal Before and After Pet Loss with Laurie Kaplan's Guide
Thanks for shopping through links found in this Tripawds Amazon blog. A small portion of all purchases made, whether pet-related or not, help to offset the costs of keeping this community online.