Natural flea and tick protection for your pets can do a good job at repelling and eliminating parasites. And they're a safer option for dogs and cats with immune systems weakened by cancer.
But unlike those convenient single-dose "spot-on" flea products, natural flea and tick protection requires diligence on your part. Using these products means remembering to spray your pets a few times a week (more if they frequently swim), keeping a close eye on their fur for signs of parasites and thoroughly fighting fleas around your home too.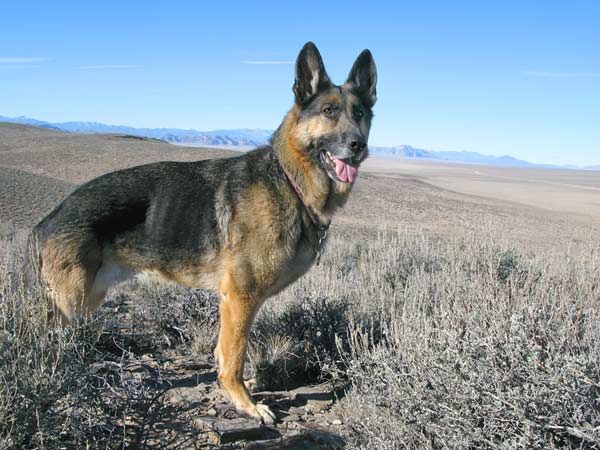 But the results are worth it. Because if any dog is proof that these holistic-minded products work, it's Tripawds Spokesdog Wyatt Ray. He's seven years old and has never been exposed to conventional flea and tick products. And he's never had fleas. Since we spend summers in the mountains, ticks have occasionally latched on, but they've never been a real problem and Wyatt's never contracted any tick-born diseases. Maybe we're lucky: some dogs are more susceptible to tick-borne illnesses like lyme disease. Wyatt is apparently not one of them.
Why Spot-On Flea and Tick Products are Risky
Obviously we took a chance to find out that these products work, but to us the risk was worth it. Why? Because conventional flea and tick products can keep our pets healthy — or they can make them incredibly sick.
In her blog post "Advanced, Non-Toxic Pet Pest Repellent System That Works," holistic vet Dr. Karen Becker shares:
Every day, I see dogs and cats suffering from the side effects of drugs or other toxic chemicals they've been given.

In April of 2009, the EPA issued an advisory about "spot-on" chemical pesticide products. These are products applied to the neck or back of dogs and cats as a flea and tick preventive.

The advisory was issued due to a significant increase in reported adverse reactions – everything from mild skin irritation to seizures and death. In 2008, over 44,000 reactions presumed to be tied to spot-on products were reported by pet owners, veterinarians, and other animal caretakers.

And the 44,000 reported incidents in 2008 was a significant jump from the 28,000 the prior year, and included 600 deaths. In my opinion, the risks of these products are simply too great to warrant their routine (monthly) use. I encourage dog and cat owners to avoid these pesticides in favor of safer alternatives.
Fight Fleas Naturally with Flea and Tick Defense
Dr. Becker recently introduced a Mercola product called "Natural Flea and Tick Defense." We think it's worth a try. Here are the natural Brazilian oils and ingredients found in Flea & Tick Defense spray:
Lemongrass oil – When formulated into a spray for pets, promotes a shiny, healthy coat, and helps repel fleas, ticks, and mosquitoes.
Cinnamon oil – A versatile essential oil widely used in the household. It is an effective environmentally-friendly ingredient that helps deter mosquitoes, fleas, ticks, and other pests from attacking your dog or cat.
Sesame oil – A rich, almost odorless oil derived from tiny sesame seeds. When combined with other essential oils it helps protect against pests and promotes the health of your pet's skin and coat.
Castor oil – Castor oil has been used for years by veterinarians. When combined with other oils, helps to repel a variety of pests.
Purified water – Only the purest water is used to help blend and properly balance the unique formula of essential oils.
Dr. Becker goes on to say that if you're thinking of making this formula yourself (trust me, we thought about it too!), here's why that's a bad idea:
"There's one very important point I want to make about these ingredients… it's not the individual elements that make Flea & Tick Defense so effective, it's the expert blending and balancing of the Brazilian oils with the pure water.

You need to be very careful when selecting a pest preventive for your pet. If too much of any one ingredient is not blended properly, your pet's skin could become irritated."
Natural Flea and Tick Defense looks like a great natural flea and tick protection product. We haven't tried it yet because we're currently using Wondercide cedar oil spray on Wyatt, but if you give it a try, let us know.
More About Natural Flea and Tick Protection
Try Natural Flea Protection with Wondercide
Fight Fleas Naturally with Cedar Oil
The Flea Dilemma for Cancer Dogs
Save