For all animal lovers, there is usually one special pet who touches the heart, who becomes—and always will be—your heart and soul dog. For us, that would be Jerry—our first dog, and the inspiration for the Tripawds Community.
For author, director, and psychotherapist Douglas Green, that was Shirelle.
Shirelle was not a three legged dog, but like the beloved dogs and cats of so many Tripawds members, she shared a very special connection with her guardian.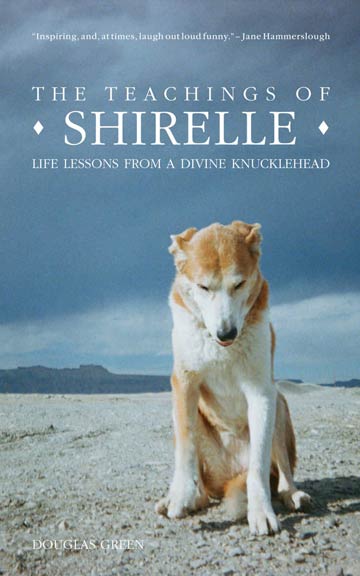 Her story struck a chord with us, as the life lessons she taught Green felt so familiar to those we learned from Jerry throughout his cancer journey.
For starters:
Live life to the fullest, and love thoughtlessly.
The meaning of life is passion.
Every second is new, everything is rebirth.
When mired in misery, joy is all that can save us.
Miracles happen.
"The greatest warriors win, not by fighting, but by ending the fight."
The Teachings of Shirelle is more than just another favorite pet memoir. It delves deep into the amazing impact Shirelle's presence had not only on the author, but on everyone she met. She deeply touched his family, friends, and the clients of his child and family therapy practice, many of whom would request she be included in their sessions.
This book is filled with endless stories, professional insights and personal reflections on the life lessons we can all take away from the special bonds we share with the pets in our lives.
Green uses his expertise as an actor and director to paint vivid pictures of his life together with Shirelle. As a psychotherapist, he is able to analyze the meaning of her oftentimes destructive behavior. His writing style includes breaking up the narrative with short anecdotes and interjecting poetry for an easy, enjoyable read.
Knucklehead?
Shirelle was known as "Knucklehead" in the shelter from which Green rescued her. Mischievous antics earned her the name, but it is not derogatory in the least. Green actually defines it as a bizarre form of genius…
" A knucklehead is someone who might be perfectly smart, but their sweet explosive emotions take over, above and beyond their intelligence."
Sweet explosive emotions—yeah, that's our Jerry.
Save