Are you following Eurydice's European Escapade? Do you love watching Jasper Lily's road trips with Alison? If these packs have given you the travel bug, now's the time to pick up the helpful new book, Travel with Dogs.
Travel With Dogs Book Makes Adventure Easy
Written by the world travel experts at Lonely Planet, you'll love how this adorable guidebook explains the ins and outs of air, land and sea travel with dogs.
This cute little book caught our eye because we were inspired to hit the road with Jerry when he got bone cancer. There were many things about traveling with him that we had to learn along the way. If only this book was around then!
Travel with Dogs teaches the most essential tips for having a good time seeing the world together. The authors explain how to:
Understand your dog's needs while traveling.
Be a great traveling pooch ambassador.
Find places to stay, eat and have fun together.
What documentation and vaccines are needed for each kind of travel.
Which gear items to pack.
And so much more!
If you're in the early stages of dreaming up your perfect travel itinerary with your pup, you need this book. For starters, you'll learn the pros and cons of each type of transportation. The authors strive to teach you what kind of travel your pet will be happiest doing. For example, not all dogs are happy air travelers, even those who can fit beneath a seat!
The book also provides realistic insight on the various ways you'll need to modify your travel activities in order to keep your pooch happy. For instance, you'll have to be realistic about sightseeing with your dog, and when you'll need to have a good quality boarding kennel as a backup plan.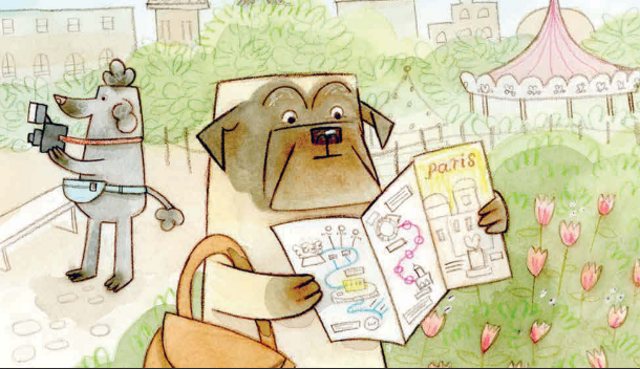 An extra little feature we really love in the book is this no-nonsense list about the benefits of traveling with our favorite canine. It's all true!
The 10 best things about traveling with your dog
1. You see more when you explore on foot
2. You make new friends
3. Dogs make the most agreeable travel companions
4. You spend quality time with your pooch
5. Dog make things more fun
6. You can travel with other dog lovers
7. You'll never be alone
8. You go places you otherwise wouldn't
9. It's good for your dog
10. And it's good for you!
As permanent RV travelers with Tripawds Spokesdog Wyatt Ray, we can vouch for the spot-on advice provided in Travel with Dogs.
If you've been bitten by the wanderlust bug, pick up this little pocket guidebook and get started planning your trip of a lifetime!
Win a Copy of Travel with Dogs!
Would you like to receive our press copy of Travel with Dogs? If so, just comment below and tell us more about the dream trip you'd like to take with your pooch. We'll choose a winner at random on midnight on 10/28. Contest is open to U.S and Canadian residents only.
Save
Save
Save