A Tripawds Fan shared this unsolicited product testimonial on the Tripawds Facebook Page with hope that it may help other pet parents concerned about their tripawd kitties being unable to scratch themselves after amputation…
So ever since Rocky lost his back leg I've seen him so many times tilt his head and see his stump start twitching because he is trying to scratch his ear, of course I always scratch it for him but I felt bad knowing if no one was around to scratch he'd be stuck with a itchy ear. I saw this Purrfect Arch…so I figured what the heck let's try it out.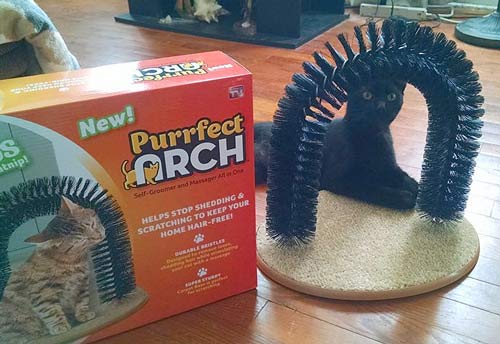 Got it set up and Rocky was a little hesitant at first but pretty soon he was in love with it. I think he rolled around, rubbed his face, bit at it and played with it for almost 30 minutes. So the reason I am sharing this is just in case any other tripawd kitty parents have the same issue with the itchy ears going unscratched. This is purrfect for your little tripawd kitty!
I know theses can be easily made out of board and bottle cleaners as well but…you'll be spending about the same, maybe a little more and all you have to do is pop the end of the scratchers into the board and its ready to go!
So I hope this helps at least one tripawd kitty parent.
—Kim W.
Do you have any pawsome products to share with Tripawds fans? Let us know!
Save