Interactive food puzzles and enrichment games aren't just for dogs. You might be surprised to learn that food puzzles for cats can stimulate your Tripawd kitty's mind, encourage fitness and ensure emotional well-being. A group of feline behaviorists have recently documented food puzzles for cats' many benefits.
The Benefits of Food Puzzles for Cats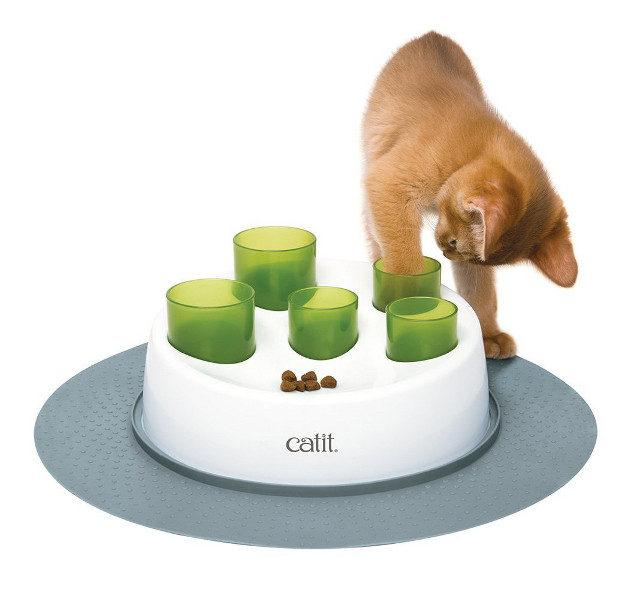 Food puzzles are a great way to keep your cat entertained while recovering from amputation surgery. Science backs this up. "Benefits we have observed include weight loss, decreased aggression toward humans and other cats, reduced anxiety and fear, cessation of attention-seeking behaviors and resolution of litter box avoidance," write four renowned feline behaviorist scientists in the report "Food puzzles for cats: feeding for physical and emotional wellbeing."
The April 21, 2016 report was published in the Journal of Feline Medicine and Surgery. This detailed report contains everything you need to know about the benefits of food puzzles and how to teach your cat to enjoy them. You'll learn how food puzzles:
Help cats get fit and lose weight.
Exercise a cat's natural hunting instinct.
And may also reduce behavioral and mental health problems created by indoor confinement.
How to choose food puzzles for cats

How to introduce food puzzles to cats

Think your cat will never use a food puzzle? Or did you try one once and your cat walked away from it? Never fear. This awesome article helps solve these dilemmas and more.
We have not encountered cats that could not adapt to food puzzles. Senior cats, kittens, three-legged cats, blind cats and cats with other disabilities, such as partial paralysis, have all been observed to use a food puzzle of some type.
The article is written for veterinarians but is quite useful for pet parents too. You'll learn how to keep your Tripawd cat interested and challenged by food puzzles, what to do if you have multiple cats — or dogs — in your house and how to manage the mess a food puzzle can make.
Great Food Puzzles for Cats
Now that you've read the article, it's time to get your Tripawd kitty some fun and challenging food puzzles on Amazon. We like these puzzles, how about you?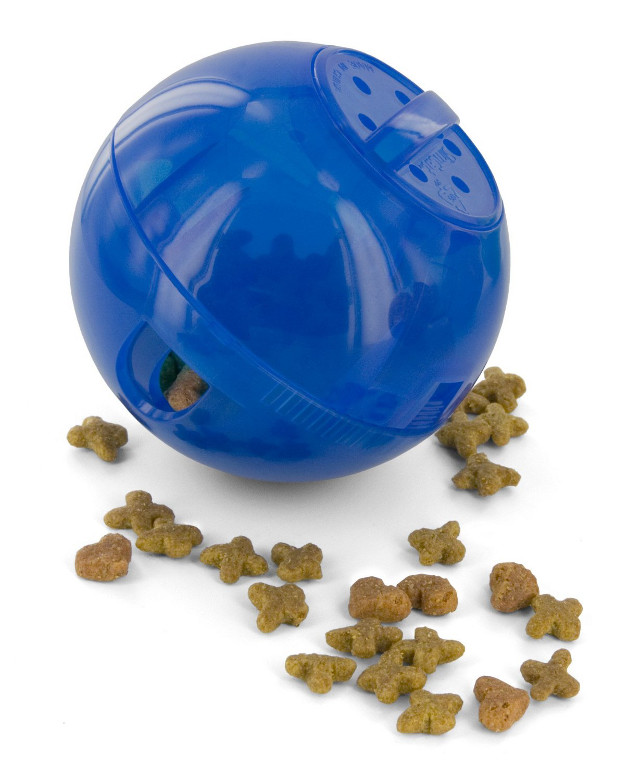 Treat or food-dispensing toy that encourages playtime using your cat's natural instincts

Combines exercise with feeding to control your cat's weight

Adjustable openings increase or decrease the challenge for your cat

Improves cat's digestion by feeding several small portions

Distributes an adjustable amount of food as your cat plays

Helps your cat fight obesity and maintain optimum height

Can be filled with treats or meals

Improves cat's digestion by feeding several small portions

Fun source of play and exercise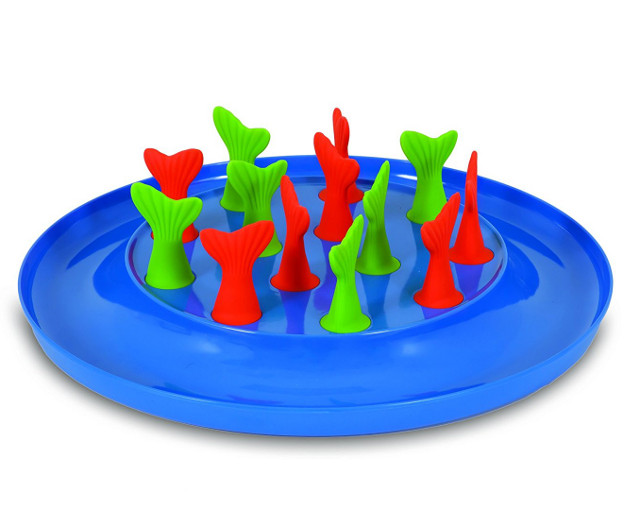 Sprinkle cat kibble or treats among the tails and watch as they fish them into the trough

Silicon tails rotate easily to continuously change the puzzle

Tails are removable for cleaning

Melamine base with rubber feet limits excess movement

Dishwasher safe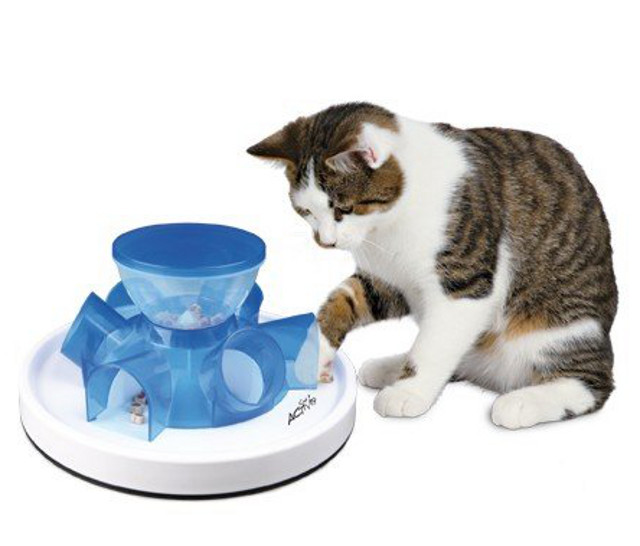 Simply fill with small, hard treats and watch your cat play

Treats released into 6 tunnels as cat pokes, scoops and jabs

Adjustable level of output to vary how quickly treats are released

Can also be used as a daily feeder

Dishwasher safe
A small but helpful portion of Amazon sales help offset the costs associated with keeping Tripawds online. Start your Amazon shopping experience through any links found in this blog and you're keeping this community going. Thanks so much!
Save
Save
Save
Save