All Tripawd cats dogs need outdoor adventures. But for dogs, keeping up with the rest of the pack can be a challenge. That's when this collapsible ATV pet wagon comes in handy!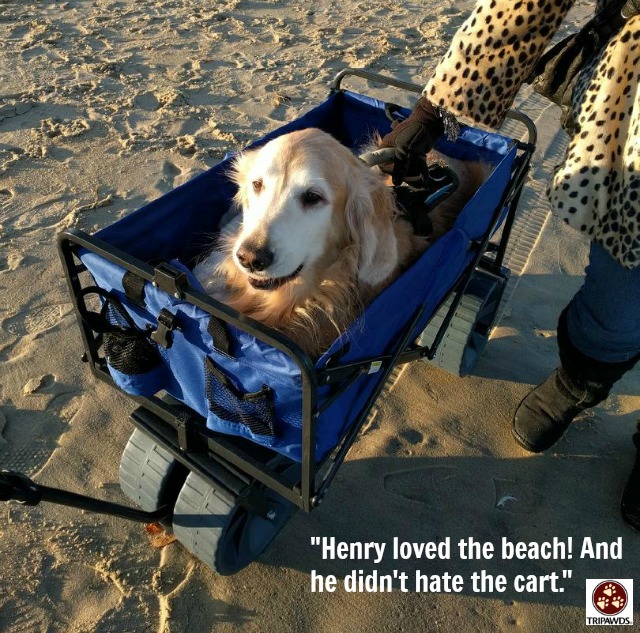 Tripawds Keep Up with Off-Road Collapsible Pet Wagon
One of the biggest questions new Tripawd dog parents ask is: "How long should my Tripawd walk?" The answer depends on many factors, like the dog's age and existing health condition. But generally speaking, rehab vets tell us:
♦  Go on shorter, more frequent walks throughout the day.
♦  When fully recovered, a Tripawd's walk should be no more than 15 or 20 minutes, maximum.
Of course we all want our Tripawds to come along on our adventures that take longer than 20 minutes. In the city, a pet stroller is a logical choice. Tripawd pet strollers are available for all sizes of pets from small to large. But there is a downside: the pet strollers we've discovered aren't easy to use on dirt and sand.
When you want to hit the beach or hike the mountains, this off-road collapsible pet wagon can do the trick! Make your walk to the location easy peasy for your Tripawd hero. When you get there, that's when the fun begins!
ROOMY INTERIOR – large capacity wagon, outer dimensions: approx. 36.2″ x 21.4″ x 24.59″ and sets up in seconds – no assembly required!

CONVENIENT COMPACT STORAGE – wagon folds to only 10″ thick! folded size approx. 31.48″ x 21.4″ x 9.64″ and includes a carry case.

LIGHTEN THE LOAD – The heavy duty frame allows loads up to 150 lbs., and the durable 600D fabric can be easily cleaned.

FUNCTIONAL FEATURES – include an adjustable handle for effortless transport, 2 mesh cup holders by the handle to keep your beverages secure, and a fold out table for drinks and food.

EASY TRANSPORT – perfect for hauling gear to outdoor sporting events, concerts, trips to the park or beach and great for use around the house.
A pet wagon can keep the pack's adventures going. Just ask Henry's Mom! She purchased one for her family's annual beach reunion last fall.
"Henry loved the beach! And he didn't hate the cart. Tomorrow we will go again!"
How Train Your Tripawd to Use a Stroller or Wagon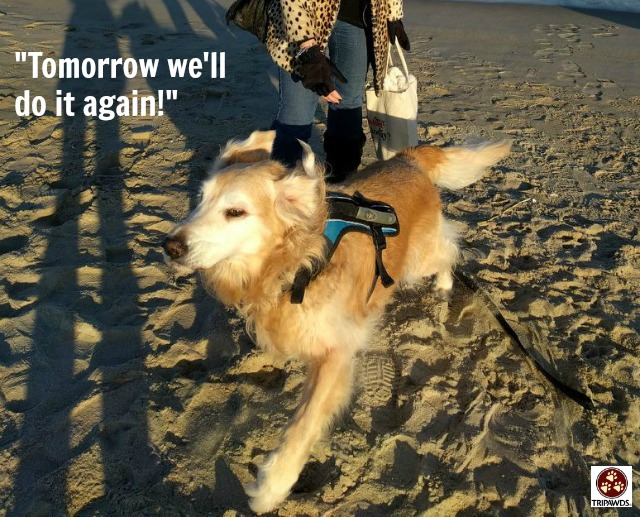 The first time out, don't expect your Tripawd to jump into the collapsible pet wagon and say "Let's roll!" Many dogs are apprehensive about riding in one — at first. In the excellent VetStreet article "Teach Your Dog to Ride in a Stroller" by Fear Free™ trainer Mikkel Becker, she advises pet parents to introduce pet strollers slowly.
"Introduce the stroller at home. Bring the stroller into your house or backyard, someplace with minimal distractions; secure the wheels so that they won't move. Either pick your dog up and place him in the stroller or lure him in with a treat.

Make sure your dog is secure. When you take your dog out in a stroller, make sure he is appropriately secured, to prevent him from running away if he falls or jumps out of the stroller.

Start out slowly. Some dogs may be nervous when the stroller starts to move. For this reason, only push or pull your pooch a few inches to start, and reward him with praise and treats for remaining calm.

Take your pooch on the road. Once your dog has mastered riding calmly in a minimal distraction environment, move on to places with more distractions. Start small: Visit your front yard or take a stroll around your neighborhood."